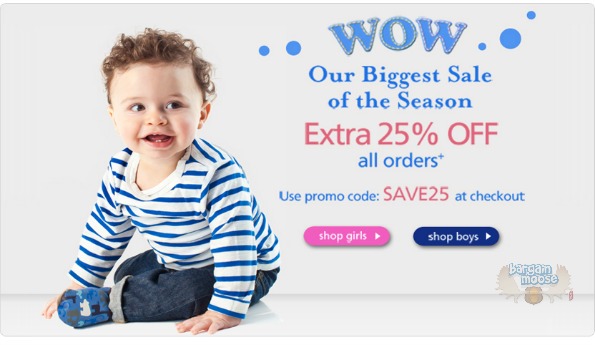 Robeez Canada is offering free shipping with purchase of 2 pair of shoes or more and a promo code for an extra 25% off all orders.  Offer valid only in Canada and US to a single address only and not valid on previous purchase.  Valid for a limited time only.
Promo Code details:
Code: SAVE25
Discount: 25%
Expiry: Limited time only
I love these Robeez shoes and boots and these cute little Robeez Booties – pastel pink are just $38 and would be perfect for my little granddaughter.  They are of course pink and their lining is a soft cuddly teddy bear plus material that would keep her little feet nice and warm.
Now my grandson is probably a little too old for these shoes now, but aren't these Robeez Soft soles Braedon – navyadorable?  They are listed at $26 and look just like a tradition sneaker.  The soft suede outer sole helps with non-slip walking and the elastic at the ankle keeps them on their feet.
Robeez also has these great socks like this Robeez floral socks in a gift box 6/pack for $20.  These are all pink and purple and made from cotton with a kick-proof gather to stop babies from kicking them off their feet.
There is also these adorable little Robeez Airplane Coverall & Hat Sets for $37.  Like the shoes, these are designed for comfort with a front snap closure for easy on and off access.
No matter what little one you're buying for, all of these products would make a great gift.  With these sales, it makes it that much better.  You will find that these shoes are designed for the best way for your baby to be able to naturally learn to walk. Don't forget to check out Bargainmoose's Robeez Promo Codes page for more deals!
Shipping: Free with purchase of any 2 pair of shoes, otherwise see shipping schedule.
(Expiry: limited time only)