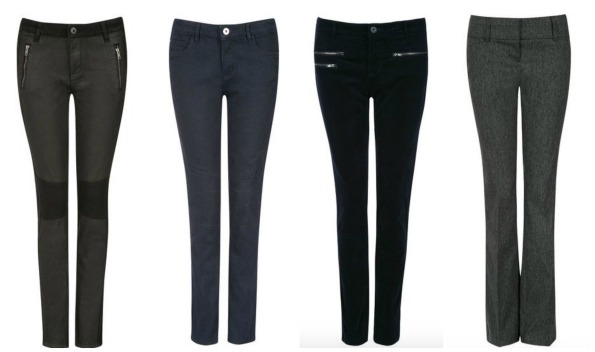 For two days only, Ricki's Canada is having a sale on all its jeans and pants. They are all reduced to $19.99 or less! That includes, jeans, jeggings, leggings, dress pants, etc. Some of the jeans and pants were previously up to $69.99, for savings of over 70% off! As a bonus deal, Ricki's is also offering 40% off one regular priced item to complete your order! Ricki's also has a promotional code offering you $2 shipping on your order of $40 or more. Don't forget, this is a semi-annual sale, and will only last until Tuesday.
This sale has a great variety of styles. Some of the pants are more fashion forward, with pleather details and fun zippers, while other designs  are more minimalist. Either way, at that price why not try both?
Here the coupon for the $2 shipping:
Coupon code: SHIP2
Discount: $2 ground shipping on orders over $40
Expiry: Unknown
I've never worked in an office setting for long, but I still remember thinking how outrageously expensive everyday dress clothes were. Simple dress pants can cost of fortune and when you have to dress in business formal clothing everyday, it can get quite pricey. Dress shirts aren't as hard to find on sale, but I was having a difficult time finding reasonably priced dress pants. If only I had the chance to shop a sale like this one! You simply cannot go wrong with $20 dress pants. Most people need to get their dress pants hemmed or fitted, and at this price you can actually afford to do so!
This sale even includes dress pants with tall and shorts options, which I know can be hard to find. Here are a couple of dress pants options that are stylish, yet have a classic twist to them:
I don't know if I can resist the 40% off one regular item deal Ricki's has going on. It includes all the latest arrivals, which means summer clothing! I've tested this deal and it even applies to their new Resort Collection. I need some pieces for my upcoming trip down south and I don't know how I can choose just one item, that's the problem. Here are some of the prettiest picks for those of planning a winter gateway, calculated with the 40% off added in cart:
As for shipping options, you can purchase for $40 and get $2 shipping, or pick up your order for free at a Ricki's locatlion nearby.
(Expiry: January 19th, 2016)