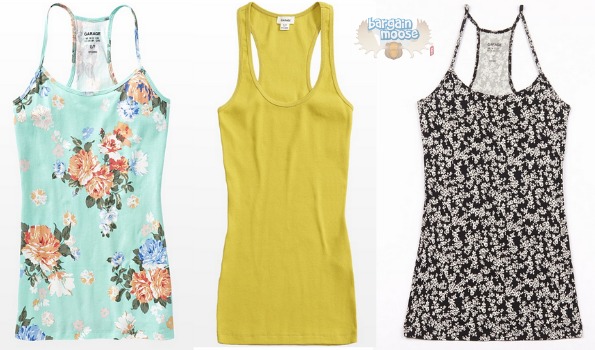 Check out this cheap quick summer fix for your wardrobe. Grab the Ribbed Racerback Tank top that was $12.95 but is now on sale for only $4.50! Completely free shipping  this weekend with no minimum makes this deal sweet!
I always seem to think I have enough tank tops for summer, and then suddenly they all disappear. I guess since I wear tank tops often and only do my own laundry once a week, it always seems like I am out of tank tops. I can add another one to the collections with this cute Ribbed Racerback Tank Top. This top is in a bright yellow, which is perfect for layering. I find I buy too much black, so some solid colour staples mixed into my wardrobe can help to brighten things up. This tank top would also go fabulously with all those black and white print soft pants that are popular this year. This is a perfect shirt for hanging around sipping lemonade on a hot summer day. You will find this tank top in sizes XS, S, M and L.
I spotted a few other cute tank tops at cheap prices today. Check out the Sheer Racerback Cami in blue. This tank top was $9.95 but is now only $4.50. I like this type of Cami for working out. The soft blue colour also makes this a great layering piece to add to your wardrobe. This cami is available in sizes XS, S, M and L. You can also buy the same Sheer Racerback Cami in pink that was $9.95, but is now only $5.
You might also like the Printed Racerback Cami that was $12.95 but is now only $7! I would layer this black and white flower print over that yellow tank top for a pretty summer look. This tank top is in sizes XS, S, M and L. I also found the Printed Racerback Cami in two more prints plus in one additional floral print at the same $7price tag.
Grab your favourite tank tops now while the pricing is hot. You will thank me when you skipped doing laundry and still manage to dig up an extra tank top to wear.
(Expiry: Unknown)