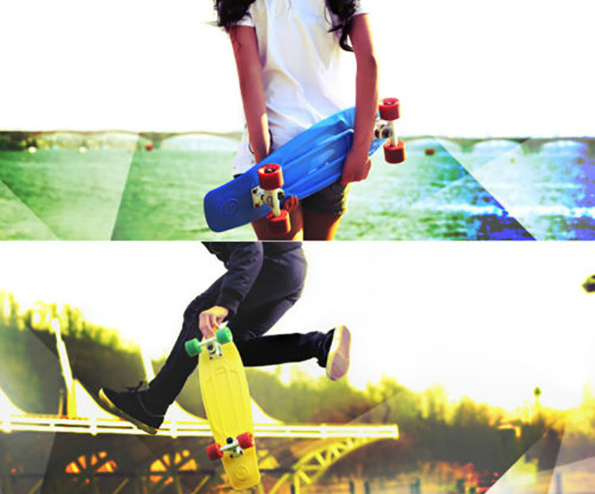 I know that snow is coming soon for most of Canada, but that is no reason to shy away from a cool item at a great price! The Retro 22" Cruiser Penny Style Skateboard Complete Deck Mini Plastic Skate Board is currently on sale from $32.99 down to $24.99 without light. The 'with light' model is on sale from $40.99 down to $29.99 (yellow) - $32.99 (other colours). Whichever you choose, make sure you use our exclusive coupon code for free shipping on this product only.
Click here to view the 22" Retro Cruiser Skateboard @ 123InkCartridges Canada now
Coupon Code: moosesb
Discount: free shipping on skateboard
Expiry: 30th November 2015
This is a super cool little toy. It is a legit 22" skateboard made of injection molded plastic. Each skateboard has a mellow camber arch, slight kick tail, and a sweet waffle shape diamond pattern with texture for grip.
These Old School Classic Mini Cruiser Skateboards are a throwback to a style that was quite popular in the 70's. These skateboards are perfect for tight turns and speedy getaways. You get all of this in a skateboard that will fit in your backpack. Essentially, this board is wicked cool.
Now, there are two different skateboards you get to pick from. The first one - without lights - will run you $24.99 with our free shipping coupon. The second type - with lights - will cost you an extra $5 to $8. Pick one up for $29.99 (yellow) or $32.99 (other colours). The with lights edition is my favourite because the wheels light up when they are rolling. Go skateboarding in the evening to get the full effect. Not only does it look wicked cool, you are much more visible to those around you.
This is officially the coolest Christmas gift ever. I used to skateboard but I found the board rather heavy and carrying it everywhere I couldn't skate was a pain. I love the size of this board and how lightweight it is. Also, I think it is pretty awesome that a car can roll over this skateboard and it will not break! Talk about a durable toy. One reviewer said:
We bought this skateboard for my daughter and she loves it. Delivery was quick (2 days) which is incredible for northern Alberta. The board is quite sturdy, and the wheels are large and wit well on all surfaces that have been tried (laminate flooring, concrete and blacktop). Overall this is an excellent deal - great product at a reasonable price.
This skateboard is available in a variety of colours. With no lights you can buy it in yellow, green, or blue. With lights, you can buy it in yellow (cheapest), green, blue, or red.