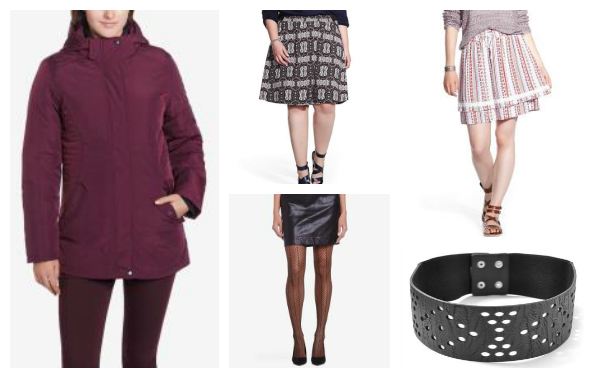 Reitmans Canada is offering up to 86% off in their sale section with an extra 50% off all items when you put them in your cart. This makes for some incredibly hot discounts. Shipping is a flat rate of $7.50 or free on orders of $99+ to your house.
First, let us talk inexpensive. We all love scoring clothing for a song, so check out some of these thrifty finds at Reitmans. First, thesePrinted Shortsare on sale from $36 down to $4.99. After extra discount, pay $2.49. Three sizes are left in stock. You will need to wear it with a t-shirt this summer, so pick up the Fooler Tank Topon sale from $30 down to $9.99. You get it for just $4.99. Thus, your entire outfit costs less than $7.50. I mentioned this was a hit sale, right?
I personally prefer skirts over shorts even though I just ordered a couple pairs of shorts. This Printed Skirtis darling and I would love to add it to my collection. I am so glad they still have it in stock in my size as well as many other sizes. This skirt was $40 and is now $9.99. Pick it up for only $4.99.
Of course, you need a top for every bottom so thisShort Sleeve Sweatshirt is next on my list. Originally $40, it is now on sale for $12.99. Yes, you can get this shirt for just $6.49 after the extra discount. I never did understand the point of a sweat shirt with short sleeves, but I also like crop tops, which are partial shirts too so who am I to judge.
Are you looking for a fun accessory that no one else will own? Try out the Belted Kimono with Fringe on sale from $46 down to $14.99. Pay $7.49 for this beauty. I am not sure I would wear it as it is not really my style (I hate fringes, okay?) but it is a pretty cool accessory.
Plus size women are included in this sale. The lovely Plus Size Printed Skirtwas $40 and is now $14.99. Pay $7.49 and dance around the New Year in a new outfit.
There are some pretty cool accessories on sale as well. This Laser Cut Beltis my favourite as it looks like a pretty stylish piece. Originally $20 and on sale for $9.99, you will pay just $4.99. Check out these discounts and many more in the Reitmans Canada sale.
(Expiry: Unknown)