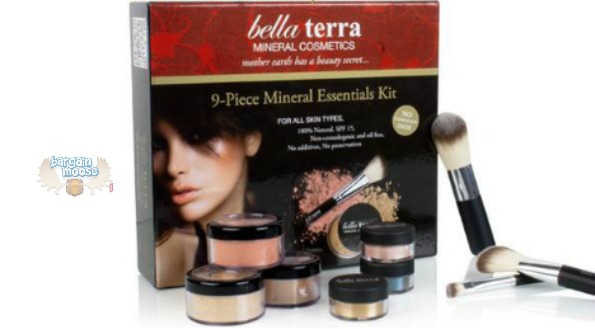 Rdeals Canada has a voucher for 70% off the Bella Terra Cosmetics 9 piece mineral essentials kit.  This cannot be combined with other offers and voucher will expire 6 months from the date this deal closes.  Voucher is to be redeemed at Bellaterracosmetics.com.  You may purchase up to 10 vouchers for yourself as well as another 10 for gifts.  Offer ends on October 1st 2012.
The kit contains:
Mineral Foundation- 6g
Mineral Blush – 6g
Mineral Bronzer – 6g
2 Mineral Shimmers – 2.5 g
Eye Primer
Foundation Brush
Blush Brush
Shadow Brush
You can choose from fair, light, medium or dark skin tones for all of the most popular essentials from Bella Terra.  These kits sell for $149.99 but with this voucher will be yours for just $45.  Take advantage of this deal.
Shipping: Included in price, allow 3 – 4 weeks after redemption for delivery.
(Expiry: 1st October 2012)