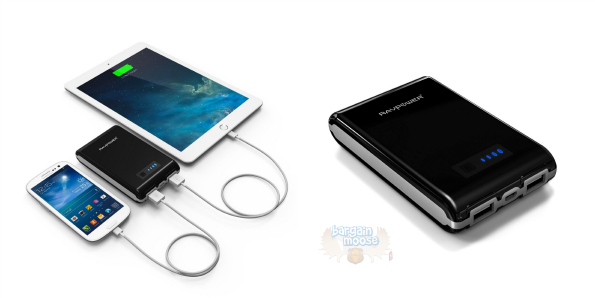 Lately there have been a myriad of great external battery deals. Today's deal is no different. The RAVPower Element 10400mAh External Battery Pack is currently discounted from $32.99 to $25.99 at Amazon Canada. Additionally, this power bank comes with free shipping.
This is the deal you want if you missed out on the Anker power bank that I mentioned yesterday. While this power bank does not bare the famous Anker name, RavPower is still a solid name in electronics. Besides, 167 customer reviews with an average rating of 4.6/5 just cannot be wrong. This power bank is popular and it is on sale.
Now, people argue about the storage capacity. Most batteries will not have the full mAh of storage capacity available but they should have most of it. Some reviewers question whether you are truly getting 10400mAh of power but they have yet to do any hard and fast tests. Despite the grumblings about capacity, the battery is actually pretty well reviewed. One reviewer on Newegg said:
comes with 2 cords and bag and you dont have to worry about losing any bits just to charge it. I get 4 charges for my Nexus 5 out of it. Plug it in and it automatically starts charging.
This power bank features two USb outputs: one outputs 2.1A and the other outputs 1A for a combined output of 3.1A. I highly recommend figuring out which port is which before you start charging your devices. It took me months to figure out that the ports on my external battery were different speeds. After that, I always charged on the 2.1A side.
The device features iSmart technology, which maximizes compatibility with Android, Apple, and other devices. It allows charging speeds up to 3.1A. Do note that this product cannot charge Asus tablets. The RavPower bank has the standard four LED indicator lights to let you know when it is time to recharge your battery.

I price compared not only against this battery but against other 10400 size batteries. This same battery costs $34.99 + $5.99 shipping at Newegg Canada. I found an ADATA external battery at NCIX.com (same size: 10400mAh) for $29.99. That is about the closest I could find in price.
If you need to keep your purchases a little more budget friendly, then pick up this external battery for under $30.
(Expiry: Unknown)