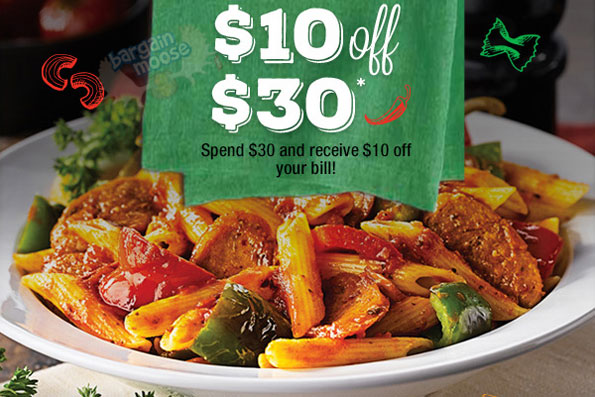 Starting today, you can get a whopping $10 off any bill over $30 when you eat at East Side Mario's! Just print or show the following coupon on your phone but you only have until Wednesday to get your discount.
This is actually one of the best printable coupons that we have seen from them in a while and since there's no telling when another coupon like this one may come along, I suggest planning a little restaurant outing while you still can.East Side Mario's frequently releases coupons for free mini meals or desserts, but a 33% discount is actually quite rare. The last time that we saw a $10 discount from them was on a $40 spend and that was back in May! The closest it has ever come to $30 is when there was a coupon for $10 off orders over $35 in January.
Any day is a good day to go, but perhaps Tuesday or Wednesday would be even better as they have a "Mid-Week Madness":
$2 Tuesdays: $5 kids' meals & $2 Mario's Chillers desserts
All-You-Can-Eat Pasta Wednesdays: just $12.99 ($3.99 for 1st add on & $2.99 for refill)
Check out their full menu here.
The closest East Side Mario's store to me is kind of far and I have never been to one but if I were to go, I would definitely order either the Mario's Nachos or stuffed mushroom caps, followed by a steak, caramelized onion and gorgonzola pizza -- is your mouth watering already? Mine sure is!
There is also the option of building your own pizza. It's $10.49 for a regular size or $22.99 for large, which includes All-You-Can-Eat.
Whatever you order, just make sure it's over $30. This is a fabulous promotion as you can essentially tack on any appettizer or even a kids' meal or two and get them for free! There's nothing like a $20 meals... with taxes of courses, but still!
If you happen to miss this awesome promotion, then make sure to grab the East Side Mario's printable coupon  "2 can dine for $22.98" from our forum. It's valid until August 20th.
(Expiry: 12th August 2015)