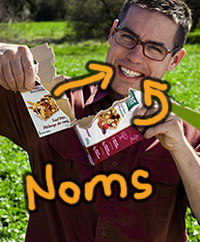 These Kashi freebies have been on the go once or twice over the last year or two.
Click here to order your free Kashi granola bars from Kashi.ca.
Many Canadians have received the free coupons in the past, then used them to claim their free granola bars! I quite like their cereals, but I've never tried the granola bars – have you? Their flavors are:
Cherry Dark Chocolate
Trail Mix
Peanut Peanut Butter
Seven Whole Grains & Almonds
100,000 coupons are available from March 23, 2009 to May 3, 2009 or while supplies last.
Get in quick!
So there's some sort of vote on their web page – does health food taste like cardboard? Apparently "Laurie" will eat cardboard if you don't like their granola bars. Hmmmm.
UPDATE -9th April 2009 - got my coupons in the mail