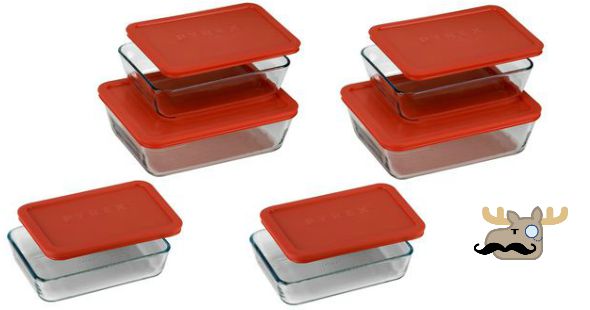 We have been posting a lot of excellent Walmart.ca clearance deals on toys, but now it is time for something for Mom. For a limited time you can snag these Pyrex Storage Plus 6 Piece Storage Sets on Rollback from $15.97 down to just $8.88. There are two different options available for this low price, and you'll have a few different shipping options to choose from as well.
Pyrex is a great brand of storage containers for lunches and leftovers. While I wouldn't jump at buying them for full price, I would definitely get them on sale for the right discount. Right now there are two different Pyrex Storage Value Packs on rollback sale for just $8.88. Each pack contains 6 pieces: 3 lids, 3 containers. One pack is rectangular shaped and the other pack is round shaped. I can make uses for both packs I think, especially with Back to School coming so quickly.
The great thing about glass storage containers is that they don't get stained by popular foods like pastas, and they don't retain odours either. They are easily to sterilize. The storage shapes even nest into each other for easy storage. The lids are secure so even if you want to something for lunch that could potentially leak, it won't. The Pyrex containers are freezer, oven, microwave, and dishwasher safe.
There is one slight difference between the round set and the rectangular set. The included containers come in different sizes. That may sway your decision on which set you choose to purchase, but both sets have excellent reviews that state the containers have strong lids, are easy to stack and are easy to clean. I don't know about you, but I hate when plastic containers get stains and start to look old. Then I don't even feel like eating the food inside.
Round storage container sizes:
Rectangular storage container sizes:
When it comes to shipping, Walmart.ca has a few different options available. If you spend $50 or more, then you can get free shipping right to your home. Otherwise I suggest opting to have your parcel shipped to your closest Canada Post Office for free. There is also the option of having your purchase sent to Walmart Canada Grab & Go Lockers if your area has them.
(Expiry: Unknown)