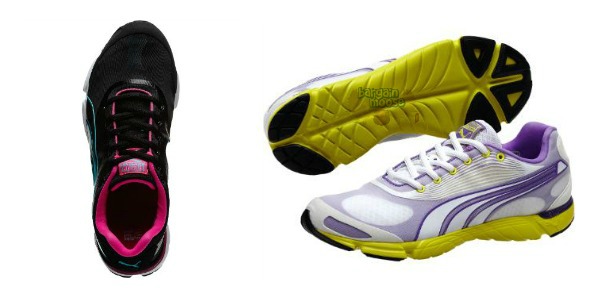 Buy the Puma women's FormLite XT 2 training shoes at Puma Canada this weekend and get 20% off and free shipping.
I am in the market for new training shoes, as mine are looking a little ratty. Technically you are supposed to change your shoes every so many kilometres and I'm sure I'm well past that point. These shoes look awesome, sound awesome and now at 20% off are a great price.
These shoes are feather light, with a design actually inspired by feathers. This gives it multi-dimensional flexibility for cross-training with supports for rapid side-to-side and front-to-back movement. A centre flex groove and blend of lightweight injected EVA and rubber adds cushion and stability. These shoes are also breathable and comfortable with layered mesh and synthetic uppers and heel support.
You can get them in black and pink or white, purple and yellow. I love the sleekness of the black shoes; you can imagine yourself like a Puma while you are running in your next race. I couldn't find any online reviews as these shoes are quite new, but Puma is a brand well known for the performance of their shoes.
Get them for only $80 (USD), regularly $100 and you also get free shipping, even though the regular limit is on orders over $100. This is a great deal if you are needing new training shoes. I am seriously considering buying these.
Expiry: 27th January 2013
This offer cannot be combined with any other offer or promotion and is subject to product availability.