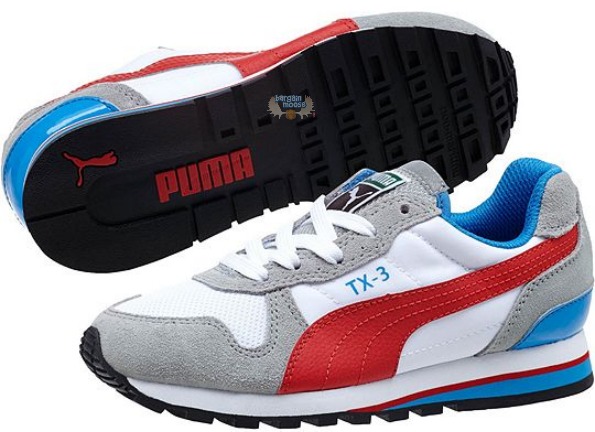 Get your kids out of their boots and into some new kicks for spring. Kids feet grow super fast and I know that the shoes my kids wore in the fall outside probably no longer fit. I will have to spend a bit to outfit three little kids in new shoes. My kids love the Puma brand, which has a bit to do with their dad's love of golf, so they would be very happy to receive the Puma TX-3 sneakers. These were regularly $65 USD and are now $39 USD. If you use the coupon codeFREESHIP, you'll also get free shipping and not have to spend the normally required $99.
These shoes are colourful in blue, red and white for one choice, pink, black and white in another and blue and white in a third. That means these shoes can be well suited for boys or girls. I personally love the rainbow type look of the blue, red and white.
Not only do they look good, these shoes are lightweight and made with quality. They also have lace closure, a Kinder-fit sock liner for comfort and a non-marking outsole so kids can wear them in the gym.
This style of shoe was actually introduced in 1987 and since everything 80s is making a comeback, sneakers are the perfect choice for that retro look.
I couldn't find this sneaker selling at any Canadian store. Puma does ship from the U.S., but all your duties are paid right at checkout and with the free shipping deal, you won't pay a premium to have these get to you from the U.S. They do sell the toddler version at Amazon.com for around $50 and whatever additional fees it will take to get them from there. This is the best deal you are going to get on these shoes.
Amazon also had one review, that I'd like to share with you about these sneakers:
Super cute & comfortable!
And there you have it!
(Expiry: unknown)