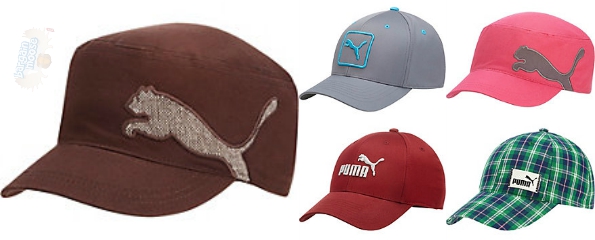 Puma Canada has a selection of fitted and adjustable caps on sale for 50% off their original prices. On top of that, an extra 20% discount will be applied at checkout and your order will qualify for free shipping with no minimum. Cap prices start at just $10.40 after the extra discount is applied. All prices are in USD.
The No. 1 Logo Embroidered Fitted Cap is the least expensive of all the caps. Originally $26, this cap is on sale for $13 and comes down to only $10.40 in your cart (with free shipping). The cap comes in biking red and grey colours with the famous Puma logo across the front. As this is a fitted cap - you need to purchase for your own head size. Size L/XL is in stock right now.
Next, the Clash Relaxed Fit Cap was $29 and is now $14.50 each. Add one to your cart and it comes down to $11.60. Take red/grey plaid or green/blue plaid out for a spin. I may love plaid but I am more of a plaid skirt kind of girl than a plaid cap person. If I had to choose though, the red/grey combo is the best.
Next, my favourite style of cap: the military. Puma's Military Adjustable Cap is a great option because you get a more customizable fit for your head. This is especially good if you do not know your head's size or if your head usually falls between sizes. Originally $29, the cap is on sale for $14.50 in three of the colours: castlerock-red, virtual pink-grey, and brown-menswear. Oddly enough, the brown-menswear is totally my favourite because of that lovely patterning in the Puma logo. It looks like a tweet. When you add this cap to your cart, it comes down to $11.60.
For a nice generic cap, purchase the Cat Patch Relaxed Fit Adjustable Golf Cap in dark gray/hawaiian ocean. All the other colour options are more expensive than this colour combo. Originally $31.50, this cap is on sale for $15.75. After the additional discount in cart, your cap comes down to $12.60.
This is but a sample of the Puma caps currently on sale for 50% off. I chose the least expensive options as I am a budget-minded Mooser looking for the best deals. Remember, all orders come with free shipping so you can really score a new cap for a great price.
(Expiry: 27th July 2015)