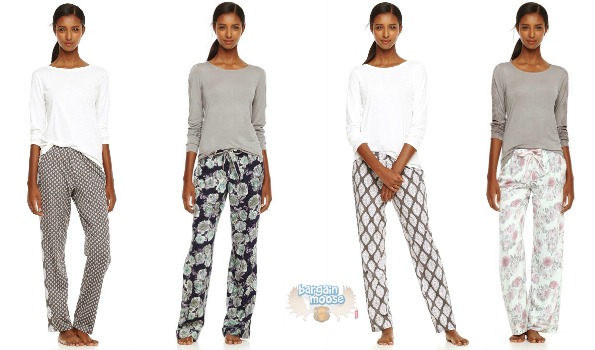 Joe Fresh has some nice deals going on today, including these sateen print sleep pants that were $19. You can snag them now for only $4.94 in two different patterns. Use a coupon code from the forums to score totally free shipping!
I buy new comfy pyjamas for my daughter all the time but find I often wear mine much past their expiration date. I have a couple pair of lightweight pants I rotate through even in the winter with my thicker pyjama pants. Once summer hits, only the lighter pants work and I suddenly need more pyjama pants. Even better, you can use our exclusive free shipping coupon code MOOSESHIP and they will ship to your door with no minimum. It usually will cost you $50 to have free shipping, or an estimated $7.50 to $10 in shipping costs depending on your location (please note that some of you couldn't get this coupon working yesterday, but it's good to go now).
If you too find you could use a few extra pairs of pyjama pants, check out these cute printed Sateen Sleep pants. If you have never owned a luxurious pair of sateen pants for when the weather is balmy, now is your chance. These cute pants come in two different patterns, a white based floral and a navy based floral. I like the white floral a bit more, but both patterns are cute paired with a solid coloured sleep shirt. The sateen is a mixture of cotton and a synthetic material for the ultimate summertime comfort. Theses pants have a drawstring waist and have a cuff at the hems.  Since these are lounge pants, you could size up if your size is not currently available. That drawstring waist will ensure a comfortable fit. Here is the sizing currently available for this deal:
White Floral: Extra small, medium, large and extra-large
Navy Floral: Extra small, medium and extra-large
If you like comfy sleep pants but you are not into floral patterns you may want to check out the Print Sleep Pants. These pants also were $19, but you can snag a pair now for only $4.94. These pants are available in two different prints and are in a jersey material. I have to admit, I am wearing jersey pyjama pants this Sunday morning as I write this blog. My comfy pants have been washed multiple times and are super soft. Both pairs are also in sizes medium, large and extra-large. Grab yourself a pair and by next Sunday, you can be wearing your new pyjamas.
While you are shopping, it is worth taking a browse across the rest of the Joe Fresh website. Joe Fresh is having a Flash Sale that includes 25% off many items and is only through today. If there is summertime essential you have been wishing for now is the time to grab it while many items are reduced by 25%. That free shipping also sweetens the deal. Grab your favourite pieces now!
(Expiry: 7th June 2015)