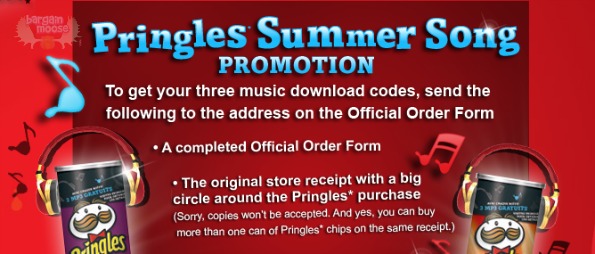 Pringles is offering Canadians a nice extra gift when you purchase a can of Pringles. Just mail in your original receipt complete with your song order form and you will receive download codes for three free songs (of your choice) from the Pringles' digital store.
I would not purchase a can of Pringles just to get the songs as the cost of the Pringles and the cost of the stamp sort of defeats the purpose. However, if you buy Pringles anyway (my husband loves them) this is a great freebie for Canadians. Evidently the US version of this offer only gives out two songs.
Peter from My Bulging Wallet sent this deal to us and he said "I've used Pringles' digital store to download some songs. It has a pretty broad selection." That is always my concern. Since I buy all my music legit, I value free mp3 offers but worry about the selection of websites offering deals like this. Good to hear they have a decent selection. Thanks Peter!
(Expiry: 30th November 2013)