PrincessAuto: 14" 33cc Poulan Chainsaw for $75 (save $25)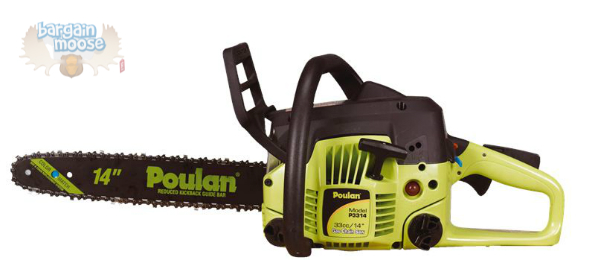 Use a chain to saw things for less with PrincessAuto with $25 off, now only $74.99.
Could I ever have used a chainsaw a few weeks ago. We got hit by ice like a lot of other people in the country and I had some trees that had to be trimmed back. Some of them will have to come down after the snow goes. Anyway, out I went with the bow saw to hack away at tree limbs. It would have been much easier if I had a chainsaw to take them down. I don't even want to think about how much it's going to suck to get through the full sized trees that I need to take down. I have one that there is no way my bow saw will work. For that I'm going to need a chainsaw. Actually, to be honest, I'll need a pro with a chainsaw but still, chainsaw.
As I am wont to do, I checked out this same item on the Canadian Tire website and, as they are wont to do, Canadian Tire is charging way more. It's actually laughable how often the price at Canadian Tire is more expensive than Princess Auto. They are even more than the above price. And not by a little bit. By a huge amount. This chainsaw is $99.99 at Princess Auto when it's not on sale. At Canadian Tire the regular price is $169.99. If Canadian Tire had this on sale for twice the discount as Princess Auto is offering, it would still be $20 more than the Princess Auto regular price.
Shipping is based on where you live or you can get it in store.
(Expires: 19th January 2014)