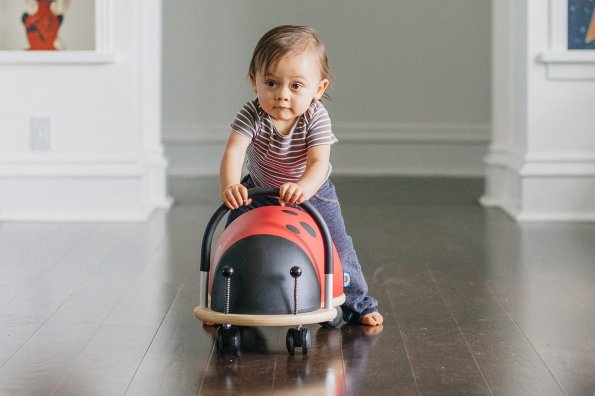 **This item is temporarily out of stock - but you can still order and receive it at the sale price when it comes back in stock!**
Okay. How adorable is this Prince Lionheart Wheely Bug!? It would make the perfect Christmas gift if you have a toddler running around the house. The Ladybug Wheelybug was normally $84.80, but is now on clearance for just $35 at Amazon.ca. That even includes shipping!
Out of all the ride-on toys I have seen, this has got to be the cutest one so far - and also totally affordable! For just $35 you can have your very own Ladybug Wheelybug for your tot to ride around the house. These toys are fun and a great way to encourage your child to use their motor skills. The handle is easy to grip, and the toy is super sturdy. This is the larger version, the small version is $96. But the larger version is better and will last your child longer. It is meant for children ages 2-5 where as the small version is for children ages 1-2. This particular version of the Wheely ride-on toy is also unisex, so you can snag it whether you have a little girl or a little boy.
This Wheelybug is made of renewable plantation timber as well as stainless steel fixtures. It boasts caster wheels so that the ride on can easily go backwards, forwards, sideways or around and around. It is best suited (and most fun) for level flooring indoors. There are several different Wheely ride-ons available, but they all cost upwards of $90. If you are looking for a small one, your best bet is to snag the Wheely HedgheHog since it is on clearance sale right now at Walmart.ca as well. It was originally $106 but right now it is just $65. I can't believe how adorable these toys are! I bet you can even pass them on when you're child is done with it.
**Please Note**
This item is listed as temporarily out of stock, which means you can still order it at this sale price but Amazon won't deliver until they have them back in stock. Even if you are thinking of ordering this for Christmas, it's likely Amazon will get it to you on time. If they email with a later delivery date, you would just have to pop on and cancel your order anyway - so it does no harm ordering now at the sale price
Since you're spending over $25, you will also get free shipping.
(Expiry: Unknown)