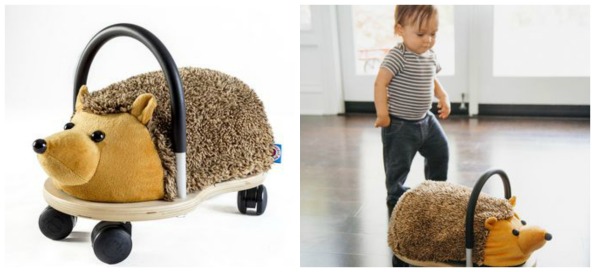 Who knew hedgehogs could be so cute? If you're on the market for a ride-on toy for your little one, consider this totally adorable Prince Lionheart Wheely Hedgehog, originally priced at $106 and reduced to $65 at Walmart online in the clearance section as part of their blowout Boxing weekdeals. Shipping is also free on orders over $50.
Ride-on toys are an absolute adrenaline rush for toddlers. They can roll around the home for hours on end, turning and scooting. Those maneuvers develop your little one's gross motor skills and balance. Every piece of furniture is an obstacle and they somehow get stuck in every corner of the room. It is very funny to watch but with this ride-on that might not happen since they have multi-directional casters that can move forward, backwards and sideways. It is best to use it on smooth surfaces. For what age group is this toy designed for? Well, Prince Lionheart indicates that this toy is made for children over 12 months old with a maximum recommended weight of 50 pounds. This gives your child quite a bit of time to enjoy this toy. This toy is also called an "heirloom toy". Prince Lionheart stands behind the handmade, high-quality construction of this toy. Therefore, it could be passed on to younger siblings or could even be shared with kids of different ages. I love toys that kids can share since it is so easy for toys to create clutter. It seems to me like my child has a million toys but only plays with ten of them. With two kids I imagine toy sharing and saving space is a must.
I've done a price comparison of this item with other retailers and Walmart still offers the best deal:
$87.99 @ Bestbuy.ca
$80.74 @WestCoastkids.ca
I wouldn't wait too long to purchase this toy, it is already sold out at Amazon for the same price. The items in the clearance section at Walmart always go fast. Since this item is over $50 home delivery shipping is free! If you're looking for other options, you can pick up the item for free at a local Walmart Canada Grab & Go locker or have the item shipped to a Canada Post location, also for free. You can't beat free.
Happy shopping!
(Expiry: Unknown)