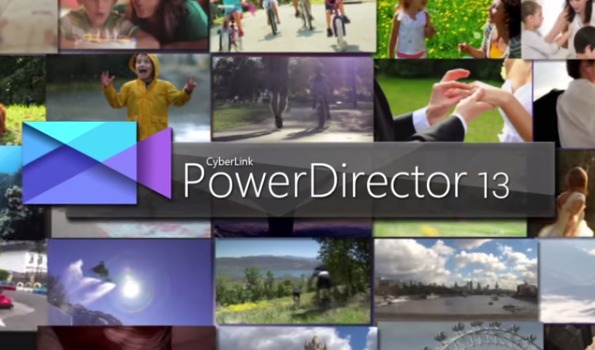 Check out the PowerDirector 13 Video and Audio Editing Software on sale for Mother's Day. This bundle retails for $229.98 and is on sale for $59.99. Use our exclusive coupon code to take off an additional 10%, making your total only $53.99.
PowerDirector is software that runs on a windows platform and makes amazing videos and special effects. While I am not a trained graphic designer, it would be nice to string together some of my family videos and pictures. This user-friendly software is just the ticket to create some great memories, and this bundle is a great price to get started. In addition, you can use our exclusive coupon code MOOSE10 and save 10% off sitewide, including this bundle!
Here is what you receive with this bundle:
PowerDirector 13
AudioDirector 5
PowerDirector Mobile: (for Win8 or Android)
Plus 5 special effects and templates packages including Cyberlink Travel Pack 2
There is also a free 30-day trial available for this software, fantastic! Thanks, Cyberlink! I like that I can try before I buy. Download it yourself and see if you gel with the basic functions.
Do be careful Bargainmoosers. Cyberlink automatically includes an extension on your downloading privileges in your cart, which will cost an extra $10.23. You can choose to remove that feature from your cart, and you will still have 30 days to download any software. The extension allows you to download the software for up to a year. A hard copy backup disk is also available for $8.60 but is not part of this package. Here is my cart to show you what it looks like when I removed the extras.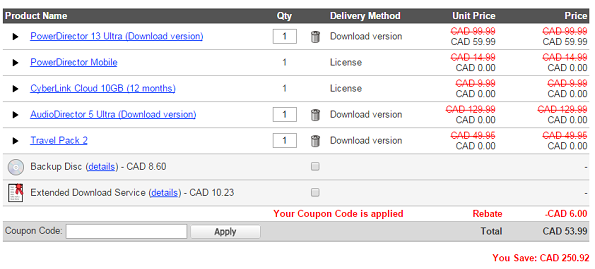 Shipping
You do have the option of having a disc copy shipped to your home. Shipping is a little steep at $21.80, but the software package cost is still the same. The main software itself will be sent in disc form. The included add-on packages are only available via download but are still available with the shipped option.
Price Compare
This bundle price is a downloadable copy of this software. Other places that were selling this software are selling a disk version of this software. I found this software available at Amazon Canada for $99.99. Over at Best Buy Canada, the Power Director 13 software is selling for $99.99. Both pieces of software include the mobile editing features and the cloud features. Neither of these prices includes the bonus audio software or bonus special effects features that are available directly from Cyberlink.
Reviews
Are you wondering how this software rates compared to other packages like Adobe? PC Magazine rates it very highly. They have named the PowerDirector line of software the top pick in video editing software for beginners for over five years. Tom's Guide also has a very positive review of this software. They praise the user friendliness for beginners but also mention there are many tools to support a professional's work.
Overall, this is a great buy for a fantastic piece of software. This will be a great evening project as you unwind at the end of the day. Now maybe I can sort through those mounds of vacation and baby photos and turn them into something more fun!
(Expiry: 12th May 2015)