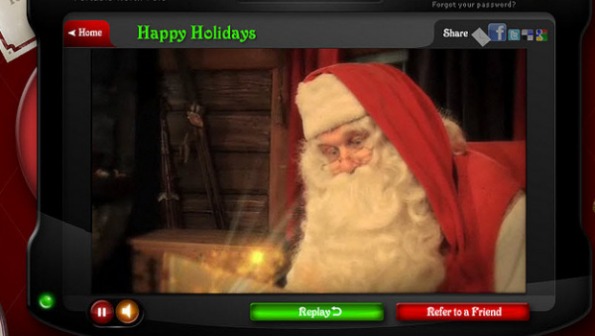 It's back!!! The magic of Christmas is alive at the North Pole and your kids will again be able to talk to him this year. Portable North Pole is back and running for you to personalize a special message for your kids from Santa Claus this year.
This will be the first year I will be using it for my kids but I have watched it before for my niece and she loved it! I can't wait to see the look on my kids faces when he sends them a message and actually says their name.  They will be so happy!
This service is absolutely free although you can upgrade a few options like Eva suggested in a previous post. The free service will basically be a personalized message from Santa Claus himself with your child's name in it.  It is very easy to do and absolutely free.
There really is something very magical about kids seeing Santa first hand actually saying their name.
(Image credit to Sympatico Santa Claus)
(Expiry: Unknown)