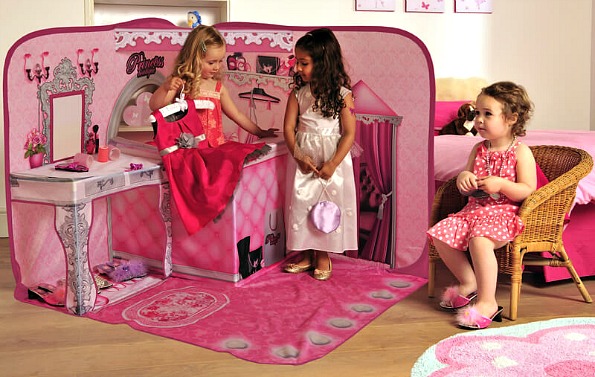 **Bump: we have a $5 price drop people! Pick this play scape up quick for only $15**
I am busy trying to find you great toy deals for Christmas that will awe and wow your children. I think The Pop Up Co. Princess Boutique 3D Playscape might just be the thing. Originally $49.99, this 3D playscape is on sale for $24.99. Make sure to use coupon code941612495 for an extra $10 off your order, thus bringing the 3D Princess Boutique down to $14.99.
This is a super cool toy. The playscape 'pops up' to create the inside of a boutique where your child can sell her friends clothing, try on shoes and dresses, and pretend she is in a real boutique. This boutique is done up in the latest princess fashion with pretty detailing on the furniture, rug, and more. Of course, the entire playscape is in pink - a princess' favourite colour.
Let us talk about toys. Essentially, this pop up playscape provides and immersive environment for your child to play. It can be used both indoors and outdoors as it is made from a durable polyester fabric. When your child is done playing, they toy easily collapses and can be stored inside the included carrying bag.
It is really funny in the product description to see that this 'does not use batteries'. I guess that is an issue these days: it seems most the toys are battery operated. While I like battery operated toys, there is something great about a toy that you can play with all day and it doesn't need charging or a battery change.
There are many reasons I like this toy. First, it is big and when I was a kid bigger was always better. It didn't really matter what the toy was - as long as it was big it had to be good. Secondly, toys like this really spark the imagination. They provide an environment in which children can role play a variety of stories by themselves and with their friends. Lastly, the price on this is just awesome. You are saving - overall - 70% on this toy alone. Get it shipped for free to one of over 1300 Sears Stores or Sears Outlets.
While I could not find this toy elsewhere in Canada, I did find it for £35.93 shipped from and sold by Amazon UK (approximately $70 CAN). Ouch!
(Expiry: Unknown)