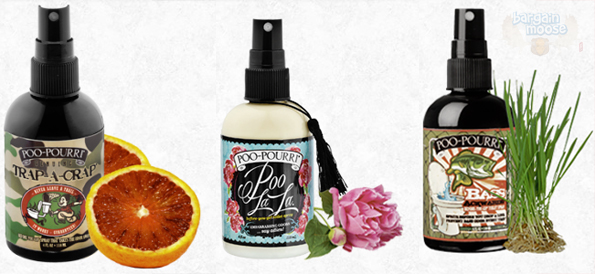 Here's a new store for Bargainmoose – we've never before mentioned these guys in the past. Have you heard of Poopourri.ca? They're a Canadian based store which sells a range of scents, specially designed for leaving the toilet smelling better than you found it! I met the company at a recent conference and they told me of a coupon code to get you totally free shipping, with no minimum spend. Here are the details:
Click here to use the Poopourri.ca coupon code online now
Couponcode: stinkfreeze2015
Discount: Free shipping
Expires: 31st December 2015
Regular shipping is usually a flat rate of $7.95 which is a little steep. However, using the above coupon code discounts the shipping fee to ZERO, no matter how small your order happens to be. I tried out the coupon code on an $18 scent and it worked like a charm - totally free Canadian shipping.
Some of the Poopourri product names are pretty funny, such as:
Trap A Crap – a deep, spicy and fresh blend of blood orange
Poo La La - an elegant fresh blend of peony, rose and citrus
Bass Ackwards - a cool fresh blend of mountain air and natural essential oils
I think these would make a pretty cool and original gift. For example, if you know someone who likes sports, then the likes of this Bench the Stench from $11.95 would be a cute gift. Or, the likes of this Travel Gift Set could be a good idea – it contains their original, shoe pourri & potty mouth scents, and it is priced at $27.95.
Upon reading the site - what I like about Poopourri is that it's not a chemical cover-up for smells in your washroom. It's specially designed and it forms a layer of protective oils which doesn't let the stink out of the bowl. Poopourri doesn't have any harsh chemicals, parabens, and lots of other big words which we all get concerned about these days.
Remember, we'll have this Poopourri coupon code and any future codes hereon their coupon page on our forums.
Oh, and watch their ad, it's hilarious.