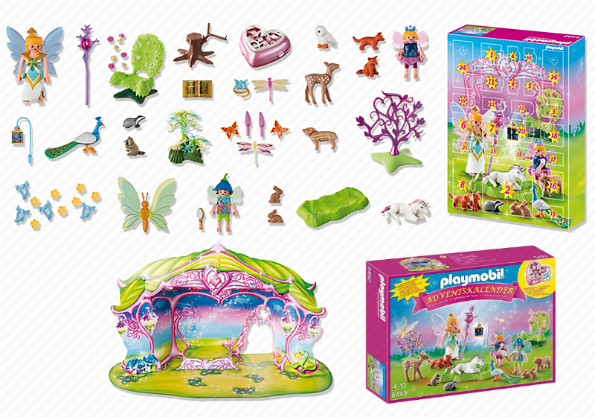 I've been keeping my eyes peeled for great advent calendar deals as December is only a couple weeks away. Thus, I was delighted to find the Playmobil - Advent Calendar Unicorn Fairyland on sale from $29.99 down to just $23.97 with free shipping from the Toys R Us Outlet on eBay Canada.
This advent calendar lets your child open up one box each day leading up to Christmas. There is a total of 24 surprise items for a grand total of 99 pieces. The set includes backdrop, three fairy figures, heart-shaped box, unicorn foal, peacock, deer, owl, foxes, rabbits, butterflies, flowers, fairy lantern, and other accessories as well.
The advent calendar is full of wonder and full of fun for your little ones. Due to the size of the toys inside, this advent calendar is designed for ages four to 10.
Now, advent calendars are super hard to find on sale before Christmas, so I was delighted to have found this one. At other online retailers, this advent calendar is full price. The Playmobil Unicorn Fairyland advent costs $29.99 @ Playmobil and $29.95 @ Chapters Indigo. Walmart does not carry this advent calendar and Amazon Canada is out of stock (but the marketplace sellers are having a field-day with the price). Of course, this advent calendar is the same price at Toys R Us but you do not receive free shipping directly from them. That extra $10 worth of shipping really adds up.
For 99 pieces, this is a good price. I was looking at some 49 piece sets that were $15.99 on sale, bringing them to around $32 for the same number of pieces you will receive on the advent calendar. On a per-piece basis, this is quite a good deal. I like how the backdrop is also included in the advent as often they show backdrops in sets but they are either not for purchase or for purchase separately.
This is not exactly a 'Christmas gift' as you really need to give this to your child on the first of December so they can open a window each day leading up to Christmas. However, it is a fantastic Christmas-themed gift as all advent calendars are made to create excitement and increase anticipation for the big day.
(Expiry: Unknown)