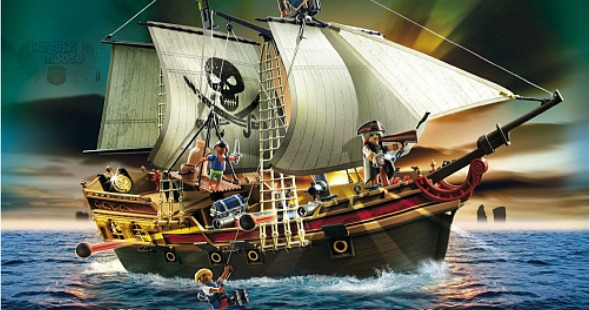 Toys R Us Canada is just loaded with great deals right now. Earlier I wrote about discounts available on the Thomas & Friends Wooden Railway toys, but now you can get a hot deal on this Playmobil Pirate Ship too. This Playmobil Pirate Ship was priced at $99.95, but is now 50% off. That brings the price down to $49.95. There is also the coupon code CINEPLEXHOLIDAY that will get you an additional $10 off orders over $40, bringing your price down to a fabulous $39.95.
There is no telling how long this deal will last, so snag it quick. I am sure quantities won't last long considering this Playmobil Pirates Ship is basically 60% off right now once you apply the coupon code. It is rare to find discounts that great on Playmobil products.
Playmobil toys are rated for children ages 4-10, but my two year old son enjoys them just the same. I just remove any pieces I find too small for him to play with. He has the police car, school bus, pony farm and now the pirates ship is on the way. This Playmobil Pirates Ship comes complete with working cannons, a crane for loading items on and off the boat, a hidden treasure compartment and more. This ship can even float on water. There is a Playmobil Underwater Motor you can purchase so that the boat can propel itself as well. There are also four pirate figures included among many other accessories.
Here is one of the customer reviews from ToysRUs.ca:
This pirate ship is good sized and offers ALOT of play value. I would say Playmobil toys are a exceptional value. This toy has many features to keep little ones busy. The captain's cabin has a table where the pirates can sit for a meeting, and even a bed where someone can sleep! A working anchor and derrick can both be raised and lowered for fun.
You will also save $10 on shipping when you purchase this Playmobil Pirate Ship. That probably won't allow for free shipping, but maybe you will get pretty close. My estimated shipping cost to the GTA, Ontario was $10.33. So once I received the $10 discount (automatically applied) I only had to pay $0.33 for shipping, which is not bad considering the discount you are already getting on this toy.
For more Toys R Us Canada coupon codes, check out our Bargainmoose forum.