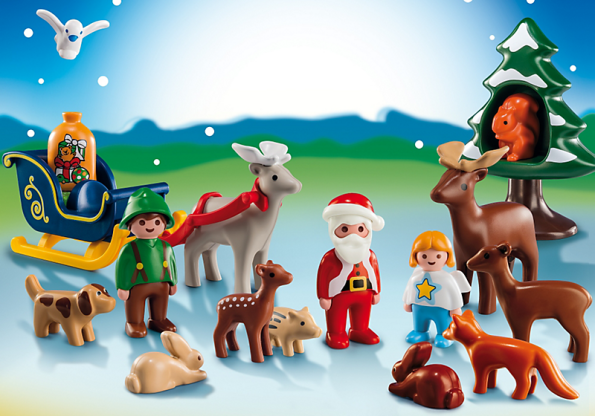 As I mentioned earlier this morning, Chapters.Indigo.ca has free shipping with no minimum purchase through December 10th. That means it is the best time to score sale items for under $25, since you would normally need to spend at least $25 to get free shipping. This Playmobil 1.2.3 Advent Calendar Christmas in the Forest was originally $32.95 but now it is just $23. Plus during this promotion you won't pay a cent for shipping and handling.
December has already started, but it is never too late to start a Playmobil advent calendar. This Playmobil 1.2.3 Advent Calendar Christmas in the Forest is on for a fab price too, even if you buy it just as an addition to your child's current Playmobil collection. $23 Is quite a steal for a high quality toy with so many pieces.
Your little one will be able to enjoy an outdoor Christmas with Santa and all his forest friends. This Christmas in the Forest Playmobil 1.2.3 Advent Calendar has twenty-four adorable surprise items for each day of December leading up until Christmas. This item also has a bright and colourful design with large, rounded pieces that are ideal for toddlers. My two (almost three) year old son just loves the Playmobil 1.2.3 toys. This set includes:
Santa
elf
angel
reindeer
sleigh
gifts
dog
bunnies
fox
reindeer
deer
chpmunk
squirrel
other forest animals
and other accessories
My son has a few of the Playmobil 1.2.3 sets and they have provided hours of imaginative play for him. I even enjoy chiming in and playing with his farm animals and such. These woodland creatures (and Santa) are going to be a great addition to his current collection of Playmobil toys, and the price doesn't even make me cringe. We all know how expensive Playmobil toys can get, especially when you are buying add-ons and such.
Normally you would need to spend $25 or more at Chapters.Indigo.ca to get free shipping, so I would snag a few hot deals now while there is no minimum spend to get free shipping. I also find that Chapters.Indigo.ca is extremely fast shipping wise. I usually get my purchase within a few days, so  you can still make use of this advent calendar with the little ones.
(Expiry: 10th December 2015)