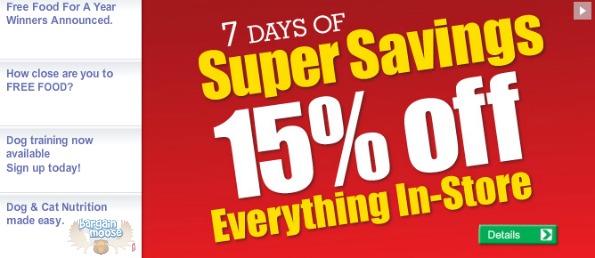 Shop at PJ's Pets through the 31st and get 15% off anything store wide. Plus you can get up to 60% off door crasher items. This is also valid for Pets Unlimited locations.
I don't live near a PJ's Pets or I might shop there. We just recently picked up more food and litter for our two male cats. We got some wet food as a treat for our newest boy, and now he is boycotting the dry food. We also picked up a laser pointer which our newest cat, Champagne, totally loves. I find happy and well exercised cats are the best so we try and have a good supply of healthy food and fun toys for them to play with. Taking care of cats is an expensive hobby, so deals like this tend to help reduce the expenses.
Pj's Pets and Pets Unlimited are located in Alberta, BC, Ontario, Nova Scotia, Newfoundland, New Brunswick and PEI.
Expiry: 31st, May 2012