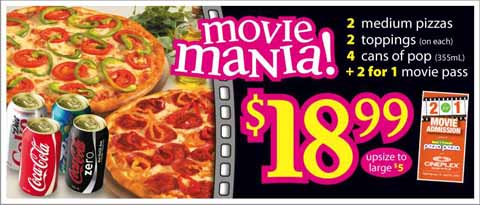 Great deal for Pizza + Movie lovers. Get Pizza Pizza Movie Mania for only $18.99, order for delivery or pick up.
Unfortunately, this deal is only available in Ontario.
Pizza Pizza movie mania is offering 2 medium pizzas, 2 toppings on each pizza, 4 cans of pop, AND a 2 for 1 movie pass, all for $18.99. You can also upgrade to a large pizza for only $5 more. There are a few worth watching movies that recently came out that you could use the 2 for 1 pass to watch, Percy Jackson & the Olympians: The Lightning Thief, Valentine's Day, and The Wolfman. Out of these February release, I think I'd pick Percy Jackson, how about you?