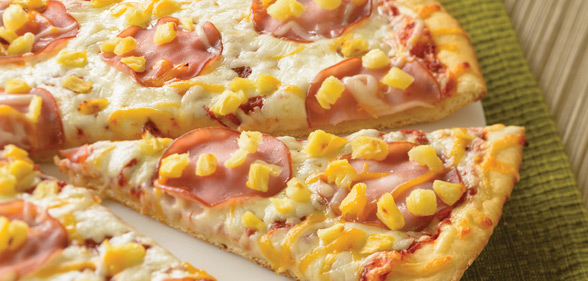 *Bump! This offer is back - and delicious!*
Ah, finally! The weekend has arrived. I bet you and your family have lots of things planned to do together this weekend, so why waste time cooking? If you have a lot on your plate, why not order pizza? Pizza Hut Canada has a new promotion on where you can get their medium pizza of the day for just $10.
I am addicted to pizza. I could honestly eat pizza for dinner every day if it didn't go straight to my thighs. With this new Pizza Hut Canada offer, you can enjoy a different pizza any day of the week for just $10. This applies to their medium sized pizzas when you order online only. Don't forget to account for taxes and delivery charges. **Edit: It appears some locations will even allow you to order a large for this special price!
Here is the list of the Pizza Hut Canada Pizzas of the Day:
 Monday - Hawaiian
Tuesday - Pepperoni
Wednesday - Canadian
Thursday - Supreme Lover's
Friday - Chicken Caesar
Saturday - Veggie Lover's
Sunday - Triple Crown
While the advertisement for this Pizza Hut Canada offer says "any day, any crust", you will unfortunately have to pay extra for the stuffed crust. Which makes me a little sad because the stuffed crust is my favourite option. My family usually orders pizza on Friday nights, so we would get the Chicken Caesar pizza. My favourite pizza is Hawaiian, so maybe we will have to switch pizza night to Monday this week at my house.
The Classic Pepperoni pizza will be a hit with all kids, so if you have a household with multiple little ones then you may want to consider ordering your pizza on Tuesday. You can order a few pizzas at this price if you need more than one, which is pretty cool. That makes it almost as hot as the Domino's deal I previously posted about where you could get 3 large 3 topping pizzas for just $30. Domino's is still my favourite pizza place, but during this promotion I will give Pizza Hut a try. Hopefully their Hawaiian pizza is just as delicious.
This offer also says it is a members-only deal. So you may need to sign up for an account when placing your order. I was able to get to the check out process without an account and the price remained $10, but I have a Pizza Hut account anyway.
(Expiry: 31st December 2015)