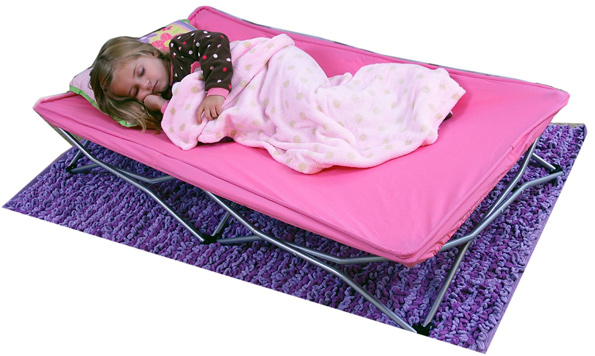 Whlie on my internet travels a few days ago, a really cute and handy item popped up in my Facebook feed. It was this Regalo portable bed, which you can see pictured in the image above. After a little deft googling, I could see that this item isn't really commonly available from many online stores in Canada, but I did find it for only $30 with free shipping from Amazon Canada!
The Regalo Baby My Cot Portable Bed is in stock and sold by Amazon.ca themselves, and as such qualifies for free shipping – or fast shipping if you are an Amazon Prime member.
There is also a blue option available but it's not as good a deal – the blue cot bed is $45. Oh, I hate these gender specific pricing differences!! To be honest, I'd really prefer the blue one even though I have girls.
There are 171 five star reviews on Amazon.ca of this item – that's amazing! If you so wish, please go and have a read of some of the customer comments, but needless to say, they're overwhelmingly positive.
The main reason I would love to have one of these is for kids' sleepovers. My daughter is only five now, but I am sure that within a few years, there are going to be sleepover requests. This type of cot bed will be absolutely ideal to pull out and use on that occasion. Plus, I can also see it being handy in the garden in the summer – for the kids just to pull out and rest upon.
In terms of pricing elsewhere, you could compare this to similar adult style cots as this exact Regalo model doesn't seem to be available at any other store in Canada. For example, these cots are $96+ on Walmart and $56+ on Canadian Tire. For a mere $30 with free shipping from Amazon, I think this would be a fantastic item to have in the home.
(Expires: Unknown)