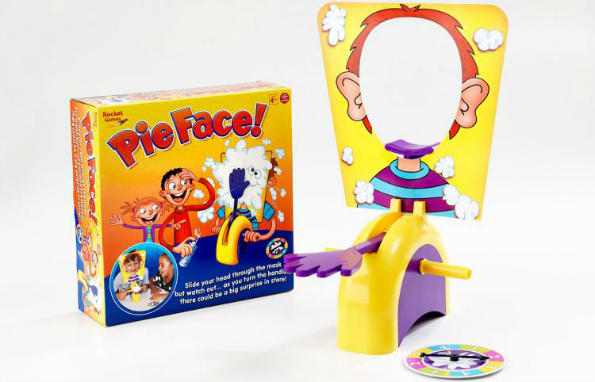 **BUMP for Black Friday: cheapest price ever! ***
Originally $19.99, you can now buy Pie Face for only $13.97 from Toys R Us Canada.  The stock status currently says "back-order," but you can still order it at the low price.
At the moment, you can only order it via ship-to-home, you cannot choose in-store pickup for this item. This means you either have to pay extra for shipping, or else spend $49+ and get free shipping. While that is a little awkward, I know that many of you were planning on buying from Toys R Us online today anyway, so you might as well pop this in your cart for family game night. 
The game is simple and deliciously fun. Put a wet sponge, spaghetti, whip cream, pudding, or whatever you fancy on the hand. Start turning the handle and see if you are the one to get pie in your face! The contraption could go off at any time so take turns with your friends. You score a point for every time you turn the handle without getting pie-faced. The first person to score 25 points or more wins. This game is a riot and sure to be a hit for Christmas.
This game is super popular, and while we saw it for slightly more earlier on - it sold out so quickly that the majority of our Moosers didn't have time to pick one up. Now you can score this fun game for under $15. This game makes a great Christmas gift for the entire family. You could also give it as a 'family gift' to your friends and neighbors.
Have you ever played Pie Face? If so, then drop us a line with your thoughts!
(Expiry: Unknown)