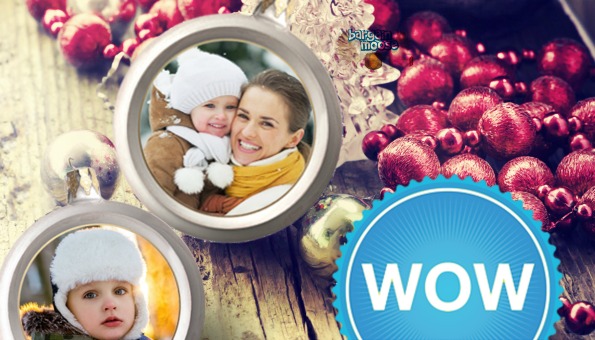 Photolab Canada is offering 50% off porcelain ball ornaments to hang of ye ol' Christmas tree. Originally $17, the ornaments are on sale for $8.50 each.
Just comparing to other types of ornaments at Photolab, the cheapest designs cost $15. I also price compared against Shutterfly as they tend to be the cheapest place according to my previous research. Their least expensive ornament was $15.99 and there was only one of those. All the rest of their ornaments were $19.99 and more. I also compared with Henry's Canada. They have a few ornaments for only $12.99 regularly. However, the equivalent Ceramic Christmas Porcelain ball is priced at $19.99.
There does not appear to be a limit on how many you can purchase. Purchase one or more and get them delivered to your local Superstore, Zehrs, Atlantic Superstore, Fortinos, Loblaws, Maxi & Cie, or Joe free of charge to keep shipping charges down. If you are taking advantage of multiple deals at Photolab Canada, then you might consider getting them shipped out to you for a price but there are no free shipping deals on right now.
The porcelain ball ornaments are on clearance. I do not believe they will be restocked after they are sold out so take advantage of this offer before they are gone. Sure, the expiry date might not be until a week into November; however, supplies might not last until then.
I like how these ornaments are customizable. A nice family tradition would be to get a personalized family ornament every year with the family portrait on it. That way you could see how much the family has grown and changed just by looking at your tree each year. After all, Christmas is supposed to be about family and little things like this are a great way to remind us of that.
While shopping at Photolab Canada, make sure you check out a few of their other deals. I see $10 softcover photobooks right now; along with a desktop calendarfor just $10 (was $15). With the New Year only a couple months away, it is time to start thinking about a new calendar. If you have children, then it would be nice to bring them along to the office and have their pictures as your monthly calendar picture.
(Expiry: 6th November 2014)