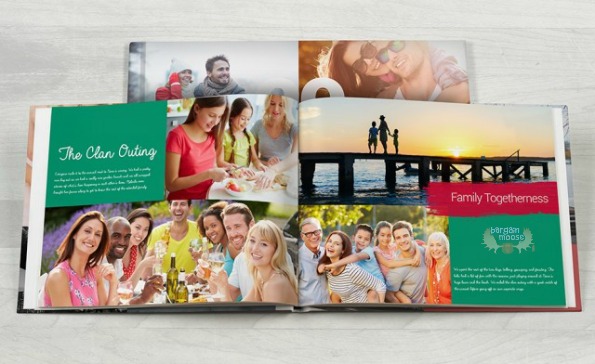 I love making photobooks as gifts for friends and family. I feel that they're a really thoughtful and unique gift. However, I don't like paying over the odds to make them. That's why this coupon code for a 60% discount at Photobook Canada is a great little deal – you can save 60% on anything on their site, including photobooks. :)
Click here to use the Photobook Canada voucher code online now
CouponCode: CDAY60
Discount: 60% off anything
Expires: 7th July 2015
Terms: 60% off all Photo Products. For Photobooks, discount only applies for all standard 40-page Softcover Photobooks and all standard 20+2 page Lay Flat Photobooks; not inclusive of paper upgrade, accessories and additional pages.
Remember, Photobook Canada don't JUST sell photobooks, they sell other photo merchandise such as prints and wall décor. There are a ton of personalised items to choose from, each would make a cool gift. Why, you can even get your photos printed on metal!
Some rough ideas of the prices of select items after you applied the above coupon code:
6" x 6" mini square book - $9.20
8" x 11" medium book - $15.60
11" x 11" large square book – $25.20
5" x 12" XL book - $60
12" x 12" calendar - $12
2" x 6" bookmark (14pcs) - $5.20
5" x 5 " metal print - $16
Shipping Fees
One thing that's a bit of a drawback with shopping from Photobook Canada is their shipping fees on lower value orders. Shipping is free if your order is $75 or more, so if you're placing a high value order, there's nothing to worry about. However, it's a different story for lower orders. I did a test order for a poster which was $9, and the coupon code brought the poster down to only $3.20. But shipping was an extra $5+ on that item, that's a rough shipping cost to an address in Ontario.
Shipping depends on what you are buying and where you live, but as you can see, it does add a bit on to the order total. Well, you could almost look at it in this fashion – on low value items, the above coupon code really helps offset those shipping fees. In the case of the poster I mentioned, the final price was about $8.59 including shipping… meaning that the coupon code totally covered the shipping fee. Or, in buying an $80 photobook, the final cost with the voucher and shipping was $50 - so it can work out OK in some cases.
But if you're using Photobook Canada to buy a large item, say the XL photobooks, then you're really saving a huge amount. If your order is just under the $75 free shipping threshold, it might be worth adding some smaller items to bring your cart up to the minimum for free shipping.