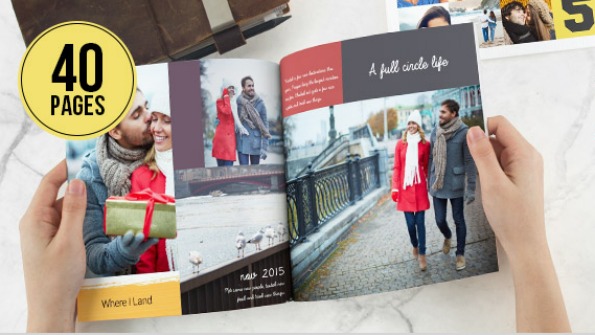 Takes those Christmas memories you are about to make and stick them in a gorgeous new photo book for the New Year. Photobook Canada has released a frugal little deal that will have you tickled pink. Use the following coupon code for a FREE 6"x6" mini softcover photo book worth $23.99. This mini photo book has 40 pages you get to fill with your own memories. You only have to pay for shipping to get this shipped to your house. This actually works out to be a fantastic offer as you can choose DHL standard shipping for just $4.99.
Click here to use the Photobook Canada coupon code online now
CouponCode: REVIEW2015
Discount: Free 6"×6" photobook - $23.99 value
Expires: 12th January 2016
Of course, I made a test photo book to make sure the coupon worked and - as the screenshot below will show you - it took $23.99 of my total cost. Then, when I reached the shipping page, I chose $4.99 shipping by DHL. This standard service is not trackable and it will take between 12 to 24 days for your photo book to arrive. It is the cheapest option and should be available all across Canada. I am on Vancouver Island and it worked for me.
I choose the $4.99 option and the total amount payable including tax ended up being only $5.24. I used my parents address so this is the tax to Alberta. As you know, tax rates vary per province. Even with a few cents more for higher tax rates in other provinces, this is a fantastic price for this little book that makes a great gift or a great keepsake.

You can see my order right there - so you know it works! This coupon has a generous expiry date so you can take your Christmas or New Year's Eve memories and commit them to book form. I would think that a photo book of the joy of Christmas morning would be a great keepsake.
This 40 page personalized photo book is such a great deal for only $5. Trinkets made in China often cost more! This is the only size book that comes with a $5 shipping option - so you get great value for one low price. I have not made a new photo book in a couple years. Maybe it is time for me to start again.