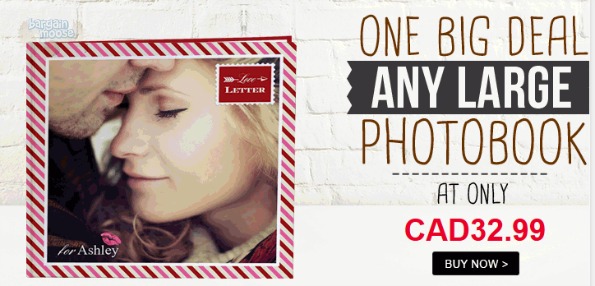 Pre-purchase any large photo book at Photobook Canada for only $32.99 plus shipping. Large photo books vary in price from $88.99 up to $104.99.
This promotion is for large hardcover photo books that come with 40 pages. You can add on extra pages for a price. The following three photo books are included in the sale:
Large Portrait Imagewrap Hardcover, 40 pages (12" x 14")
Large Landscape Imagewrap Hardcover, 40 pages (15" x 11")
Large Square Imagewrap Hardcover, 40 pages (11" x 11")
The portrait and landscape books originally cost $104.99 so you are saving nearly 69% on each book. The large square photo book originally cost $89.99, so it is not as good of a deal as the other book layouts.
Now, this deal has another hidden benefit. The price listed, $32.99, is inclusive of all tax. If you consider that you are saving the tax off the original price, then this deal is well over 70% off the original book price plus shipping. The only fee you will pay on top of this voucher is for shipping. Shipping appears to be a flat $12.99, but is free if your total equals $75 after discount. You could qualify for free shipping of you added on some accessories, ordered multiple books, or added on a bunch of extra pages to your book. I often buy vouchers like this and then have nearly $100 worth of extra pages. If your order is under $75, then any accessories you buy may cost additional for shipping.
This voucher is valid for three months. It should be used by 20th June 2015. If I understand correctly, the amount you paid for the voucher will always be yours to use but the extra promotional bit will expire in three months.
While I have often seen coupons for 55% off and once in a while 65% off photo books, this voucher is a bit better in that it is around 70% off. This is most certainly one of the better photo book deals. I might purchase this voucher as I plan to visit home in May. I always like taking pictures, and documenting this trip would be lovely. Even though some of my friends are really camera shy, I would try to convince them to make an appearance so I can have this trip captured on film to reminisce about later.
(Expiry: 27th February 2015)