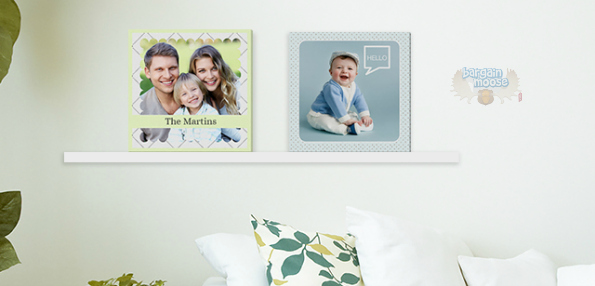 Photobook Canada is turning ten, thus they are featuring one amazing deal on the 10th of each month. This month, Photobook Canada is selling vouchers for their 8" x 8" canvas print for just $10 including tax. This size of canvas print has a retail value of $35.
Shipping is the only thing that is not included. It will run you pretty much the same as the canvas: $9.99 to most regions and $10.99 for more remote regions. While that may seem to cut into the deal a bit, this is still an excellent offer compared to other companies. Here is a small comparison.
Best Canvas has the 8" x 8" on sale from $39.90 down to $11. Their shipping rate is a flat $14.90, thus the cost to you is $25.90 plus tax.
Granted, it is sort of hard to price compare as not many companies carry this size. Other companies often start at an 8" x 10" which, trust me, is far more expensive than the $20 you will be shelling out for this deal.
Your canvas will come printed on industrial grade board. You can choose from Standard or Sand Textured: I would be tempted to check out the sand texture. I wonder if it is pebbly. I like buying vouchers as it gives me time to pick out my favourite picture and make sure I have cropped everything I do not want and enhanced it with a few filters. This voucher does not expire until my Mother's birthday: the 14th of November, 2015. I wonder if this is a cosmic hint.
A canvas print like this would be great for a child's room. Perhaps put up their school picture, a picture from their birthday, or anything else that celebrates your wonderful little miracle. Canvas is pretty hearty material and does not have the same risk as framed pictures where the glass might get broke. Canvas is also a cheaper medium: not in looks but rather in price tag. I purchased some art on canvas because the framed prints of the same size would have cost around five times the price if I was lucky.
You can only purchase the voucher today. After doing so, you then have several months to plan and order your canvas print.
(Expiry: 10th July 2015)