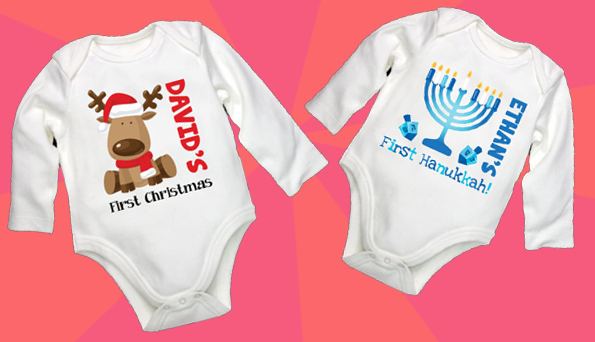 The holidays are coming so help your little one celebrate in true style! Wagjag Canada is offering Personalized Infant Onesies by L'il Pals Decals. These holiday onesies are perfect for your child's first Christmasor Hanukkah. Valued at $30, each onesie is now just $19 with shipping and tax included.
These are personalized onesies that come with your child's name printed right on the front. When you order, you will need to choose from "First Hanukkah" or "First Christmas" onesies. You can see how cute they are above. You will also need to note your child's "name" and "size" at checkout. There does not appear to be a character limit on the name, but be reasonable. Sizes start at new-born and increase in three-month increments up to size 12 months. These are, after all, holiday onesies for baby's first Christmas or Hanukkah.
Each onesie is made out of cotton and is CPSIA (Consumer Product Safety Improvement Act) certified. One the Christmas onesie, your baby's name will appear beside the reindeer. On the Hanukkah onesie, your baby's name will appear beside a menorah and two dreidels. With such adorable little outfits, you will need to take a few pictures to celebrate the occasion.
The vouchers expire on the 7th of December, 2015 and you need to place your order before then! Not only because the voucher expires, but it can take one to two weeks for the onesie to arrive and you certainly wanted it for the holidays. There is a limit of two per person and you can buy more as gifts.
The onesie has taxes and shipping included, there will be no additional charges. I was trying to price compare this onesie but all personalized onesies on CafePress start at $32.50 and the cheapest customized onesie on Zazzle is $17.50 before taxes and shipping. Given these two rates, I figured a holiday themed onesie for $19 inclusive of all costs is pretty nice. You can bet that shipping is worth a few dollars and even the cheapest tax rate in the country is worth at least a dollar out of that cost.
(Expiry: 10th November 2015)