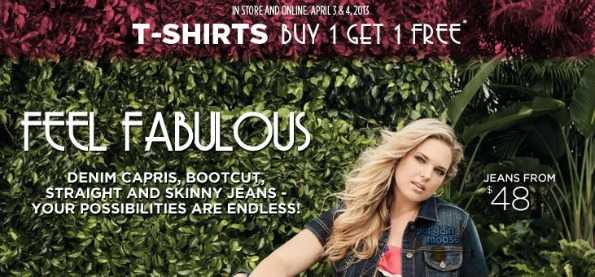 There are actually a lot of deals happening right now at Penningtons Canada but the one I am excited about is on their tees.  For just two days, they have their tees on sale for buy one, get one for free.
Basically all of their regular priced tees are on sale for buy one, get one for free right now. The tees that are included in this deal will actually have the banner "B1G1 Free" written underneath the price.  Even though it says tees, there are a lot of tank tops that are included as well which is a nice little bonus.  Like all other deals like this, you will get the lesser or equal value top for free.
Penningtons also has their huge clearance sale still happening.  Their entire Sale Section is an additional 50% off.  That means, you will save an additional 50% off the lowest ticketed price at the checkout.  I love this Crinkle Cotton Bblouse that was $40 and is now just $9.97.  With the additional 50% off at the checkout, the price drops to just $4.98!  It comes in a few different colours.
As an added bonus, they still have their free shipping offer happening.  All orders will get free shipping with no minimums all the way up until April 18th.  Normally you would be paying a flat rate shipping fee of $7.50 so this is a nice little extra.
(Expiry: 4th April 2013)