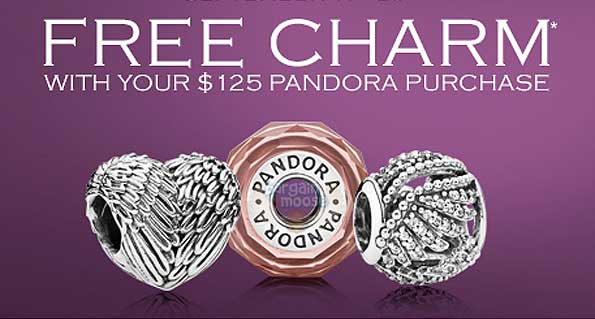 This weekend only, you can get a free charm when you spend over $125 at Pandora. This offer is in-stores only.
We don't usually blog such in-store promotions but I figured you Moosers would definitely want to know about this one because the free charm that you can get can be of up to $75 in value!
Pandora charms can be pretty pricey, so for all those of you who collect these, I'm certain that this is an offer that you won't want to miss.
If you haven't already started your bracelet, then this could also be a great opportunity to pick up a bracelet and a couple of charms. Just make sure that your total order comes up to at least $125 in order to get the free charm.
Pandora bracelets start at $55, while charms range anywhere from $29 all the way to a whopping $940!
For $75, there are a number of very nice charms, such as the ones that express the essence of you with lovely meanings like: faith, passion, peace, confidence, etc.
At $75, there are eve a couple of Disney princesses charms, but I have to say that one of my favourites is definitely the night sky, blue enamel & clear cz.
Of course, you don't necessarily need to choose a charm that is $75 either, especially if you plan on giving this charm as a gift. Plenty of people collect these and would love to get a new a charm. With Christmas coming up, this could also be a great opportunity to start thinking about your gift to a special someone in your life.
Pandora bracelets and charms are highly popular right now because they're highly customizable and the charms can be used to represent various life achievements or even aspirations. Not to mention the fact that Pandora jewellery just looks stunning and is very well made as well. :D
(Expiry: 20th September 2015)