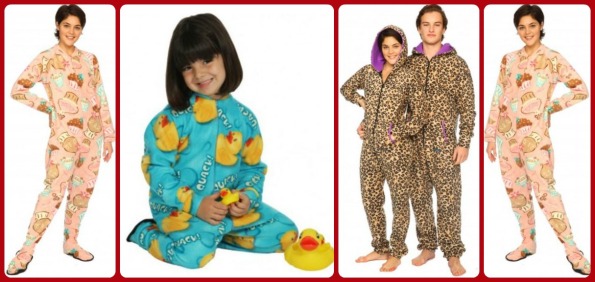 Today there are quite a few stores offering free shipping with no minimum purchase. When you combine that offer with sales items, you can find so many hot deals and discounts today. Snug As A Bug Canada has footed and onesie pajamas on clearance starting at $19.95, and when you consider the free shipping aspect you have yourself a hot deal.
There are so many different pajamas available for both kids and adults at Snug As A Bug Canada right now, and prices start as low as $19.95. That will even include shipping, this weekend only. If you order now, you will receive your order in time for Christmas too. So these PJ sets would make excellent Christmas gifts or would even go well in your Christmas Eve Box if you do that tradition with the kiddos.
So here are the pajamas on clearance at Snug As A Bug Canada:
For adults, I really like the Cupcake Swirl Adult Footed Pajamas. They were originally $74.95 but are currently on clearance for just $39.95. You can personalize them for just $10 if  you wish. These pjs are perfect for the young at heart, or those who get cold feet at night. These onesies are just perfect!
If you prefer a onesie without feet, then check out the Prowl Onesie for men and women. This onesie has an adorable leopard print pattern with a purple lined hood. These particular pajamas were originally $99 and are on sale for just $39.95. You can also customize these pjs for just $10 more. The casual foot looks equally good on him or her.
Now when it comes to the kids' selection of footed pajamas, there are oodles of cute options. I don't think I could just decide on one set, and they cost as little as $19.95. The Penguin Fun Glow Kids Footed Pajamas are adorable and festive. You can get a pair for each child at just $19.95 and they can all match. How cute would that be! If you are looking for something that would be suitable all year round, then why not snag these Quack! Glow Kids Footed Pajamas for just $19.95.
Snugasabug.com is not only offering free shippingtoday, but for the entire weekend. They also have a buy more, save more event if you are looking to spend quite a chunk of money on pajamas. You will save 10% when you spend $250, save 15% when you spend $350 and save 20% when you spend $500, though I am sure you won't be wanting to spend that much on pajamas.
(Expiry: 13th December 2015)