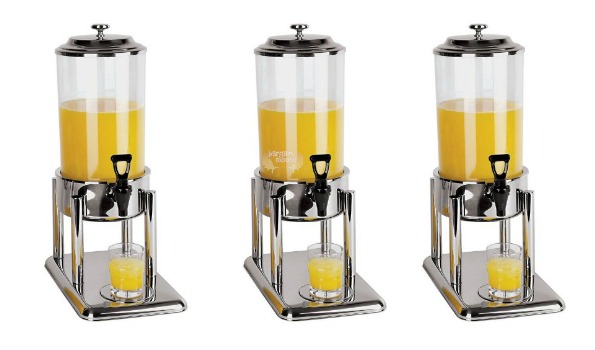 I'm not sure if this is a price error or if every other site on the web has price errors, but I wouldn't feel right not telling you about this hot deal from Amazon. While it currently says out of stock, you can still order this World Cuisine Paderno polypropylene juice dispenser for only $39.60 and free shipping and Amazon will still fulfill your order.
Looking around the web, this is priced in the hundreds of dollars elsewhere. Yes, I said hundreds of dollars. It has a 7.4 quart capacity and a stainless steel base and lid. Stainless steel is the it material for quality kitchen items. It was also engineered in Italy by Paderno World Cuisine.
This is the perfect dispenser for making flavoured water for your family to drink all day. I have something similar and this is what I do as it is easy for them to just get their own drinks and stops them from opting for juice. If you having a party, it is great for serving a large number of guests too. On top of that, it looks good and is heavy-duty, so it will withstand quite a bit of use.
Here are some price comparisons from around the web (the following links are the price in the U.S.):
While I don't think many Moosers out there would pay upwards of $600 to $800 for a juice dispenser, $40 is a pretty solid price. It is a quality item by a quality brand, so I don't think there will be any losers here. If Amazon doesn't fulfill your order, their customer service is usually really great and they'll find a way to compensate you, which makes this deal a no-brainer!
(Expiry: Unknown)