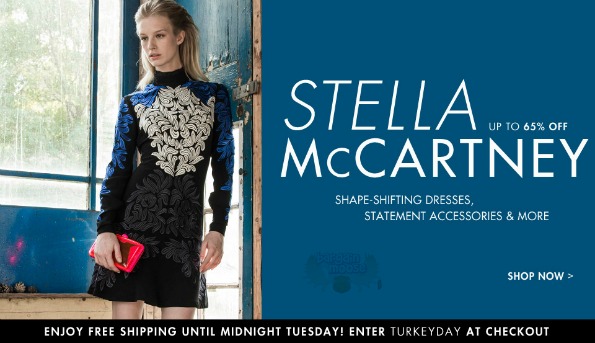 Outnet (US) is designer outlet haven in the USA that ships to Canada. All duties and taxes are calculated at checkout, so you'll have no surprises when you receive your package. Currently they are offering free shipping to Canada with coupon code, which saves you a bundle on shipping costs.
Click here to shop @ Outnet now
Coupon Code: TURKEYDAY
Discount: free shipping
Expiry: 15th October 2013 11:59pm ET
All prices are in USD. Shipping costs generally start around $24.95 and go up from there. I was just looking at a dress on there yesterday and it would have cost me $27.95 just in shipping fees. With this coupon, I save that money.
One of the sections I highly recommend is theirextra 40% off section. Everything in there is an extra 40% off when you put it in your cart. These MCQ Alexander McQueen Studded leather Mary Jane pumps were originally $675. They are currently on sale for $270. When you add them to your cart, they come down to $162 + duty + taxes. It will depend on your province as to how much that extra cost is. For me in BC, these shoes would cost $214.10.
I just love the Outnet for great deals on designer duds.
Looking for other free shipping deals this weekend? Check out our free shipping page!