Orbitz.com Vacation Deal: $250 Discount Coupon Code for Hawaii Vacations
Oh Hawaii….. how I would love to take advantage of this deal! If you're searching for deals on Hawaii vacation packages, check this out:
Where: Online @ Orbitz holiday deals
What: $250 off Hawaii flights / flight & hotel deals
Coupon Code: 5HAWAII250
When: Now until the end of December 2008
There are a few terms and conditions to using this online promo code. It applies to either the hotel alone, or a flight and hotel holiday package. You must stay for 5 or more nights though. Book before the end of December 2008, and travel dates must be between October 23, 2008, and March 31, 2009.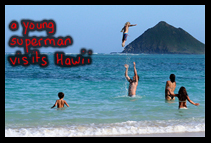 "To display qualifying hotels or packages, click I have a promotion code. and enter the promotion code, then look for hotels or packages marked with the icon COUPON. Limit one discount per hotel room and one promotion code per booking."
I was doing some research for another cheap holiday last week, and I stumbled across some gorgeous pictures of Hawaii resorts… you know, with the lovely beach huts and tropical palm trees. It looks like heaven! I've never been to Hawaii, but it's one place on my list that I'd like to see, sometime in my life!
P.S. Check out DealGuild for cashback on your purchases too.