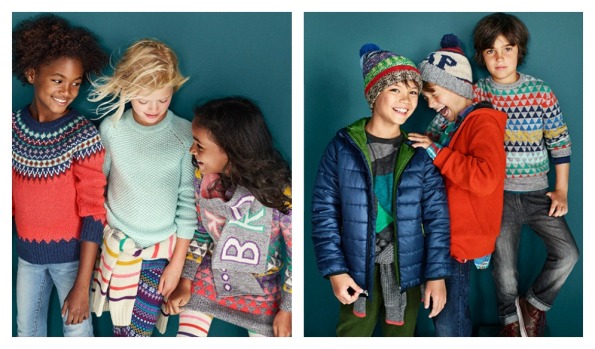 Old Navy, Gap and Banana Republic are having a pre-Christmas sale, and it's a good one! The three websites are offering 40% on almost everything and they are offering Christmas Eve delivery on orders placed by Monday the 21st. This equals to some major discounts for the whole family, especially when stacked on top of the sale and clearance sections of these sites. This sale is great for those of you who need something special to wear for the holidays or for your kid's Christmas morning pajamas. Some things are bound to sell out on boxing day so I would suggest grabbing the items that are running low on stock now.
The shipping is free on all orders over $50 for all three stores. Old Navy doesn't require a coupon, the 40% discount is automatically added to your cart. As for Gap and Banana Republic, here at the codes:
Gap
Coupon Code: GAPGIFT

Discount: 40% off no exclusions
Expiry: December 21st at 11:59pm

Banana Republic
Coupon Code: BRMERRY

Discount: 40% off no exclusions

Expiry: December 21st at 11:59pm
Old Navy
I think the best deals to be had right now are at Old Navy in the Clearance section. Some of the items are already heavily discounted and the additional 40% off makes for some fantastic deals. While there isn't too many sizes left, I love these plaid shirts. They have ton of other plaid shirt options, but I am really digging the black-and-red and black-and-blue color combos this season. They were originally $29.99 and are now down to $11.99 with the 40% discount. The items in the clearance section are selling out fast but with all the options there is something for everyone.
Gap
Gap recently added some new items to their sale section and they have other deals on right now that you can pair up with the 40% discount. I always love getting my son a holiday themed pyjama for Christmas morning and I just found a couple of great ones at Gap. This Festive animals sleep set was $32.95 and comes down to $11.43 with the 40% off discount. It's a great deal considering pajamas are often excluded out of big sales like these. That is only one of the many deals that can be found at Gap as the sale section is eligible for the sale as are all the current deals.
Banana Republic
The Banana Republic sales sections has plenty of options with especially good discounts on items that have been cut twice already, like this Textured Knit blazer. I've had my eye on it for quite sometime and it was originally $185.00 and is now down to $71.86. I love blazers but I hate their price so I'll never get enough of a good deal on a blazer.
If you love these deals, then don't forget to check out the Banana Republic, Gap, and Old Navy coupon codes and discounts in our Bargainmoose forum. Here are their coupon pages:
Moosers, are you still doing any Christmas shopping?