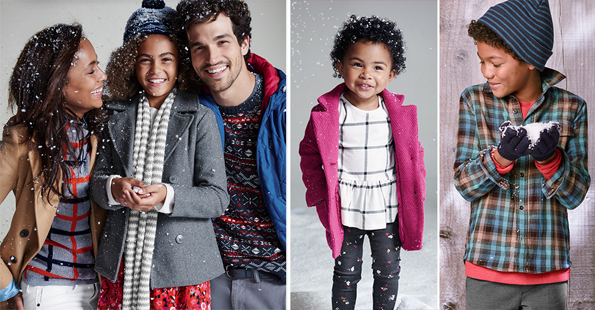 The Black Friday deals have started from the three sister brands that we all know and love: Old Navy, Banana Republic and The Gap Canada!!
Shop @ Old Navy | Shop @ Banana Republic | Shop @ The Gap
I'm going to take each individual site and do a quick rundown some of the Black Friday offers for you!
First up – Banana Republic! Today, they have released a coupon code for half off sweaters plus 40% off EVERYTHING else on site!
Click here to shop online @ Banana Republic now
CouponCode: BRFRIDAY
Discount: 40% off
Expires: 27th November 2015
The coupon code above even applies to sale items. For example, here in the women's final sale items section, it looks like there are items at up to 70% off. The coupon code will apply on top of that. This Striped Pique Sweatshirt is already at 70% off and when the coupon is added, the final discount percentage is 82%.
Next up, Old Navy Canada!
You don't need a code for this one – everything is 50% off (excluding everyday steals). The normal prices are shown there and you see the 50% discount when you pop the item in your shopping cart.
Finally, over to The Gap Canada.
Click here to shop @ The Gap now
CouponCode: GAPFRIDAY
Discount: 50% off everything
Expires: 27th November 2015
There is no link to the sale section on the site as a whole, but if you click in to the various sections (men, women, etc), there is a link to each sale page in the left sidebar. It looks like you can save up to 60% there, and the coupon should work on top of that too!
I just stumbled on this page which shows some top gifts for ladies – there are some absolutely beautiful pieces on there for winter. I love this Fair isle mohair scarf!
SHIPPING NEWS!!
Remember what's great about the above three brands – they have a shared shopping cart with free shipping on a $50 spend. But the $50 minimum is counted BEFORE you add a coupon. Even if your cart is $50 before coupon and lower than $50 after coupon, you STILL get free shipping. This is totally brilliant.
Happy shopping guys!!