Got to be quick for this one! For today only, The Source's daily circuit breaker deal is the Nintendo Wii sports pack, for only $10.99!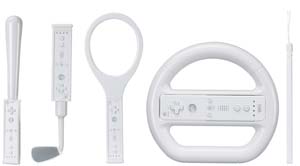 You can order it online, pay for shipping if you wish, or collect at your local store for free.
I have a very similar to pack to this one, and it is very handy for both Wii Sports and Wii Sports Resort. I especially find the little golf attachment very handy, as it gives you a better feel for your swing, whether driving or putting!
Note for my email subscribers: I am only able to send emails once a day, so I have opted to send them out in the mornings, containing all the deals of the previous day. Now, this will mean you might miss out on some bargains – some deals only last a short while. I highly recommend you call in on the Bargainmoose website during the day so you don't miss out on any hot deals.