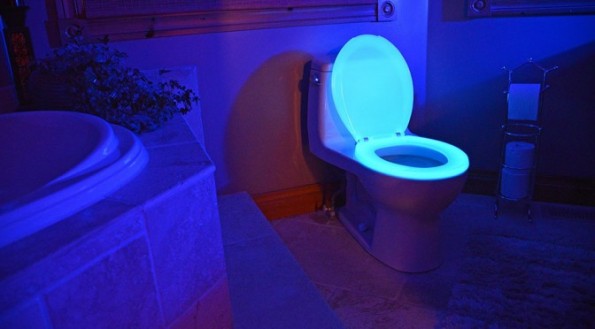 Okay ladies, I know I am not the only one who gets a slight temptation to injure my significant other for missing the toilet seat at night. There is a solution though. During the Home Depot Canada Boxing Day sale, you can save $15 off the Night Glow 200 Round Glow in the Dark Toilet Seat. That leaves you paying just $35 with free shipping!
This particular Home Depot item is going to save you from causing harm to the man in your life, trust me. Do you ever wake up in the morning to find he has missed and is nowhere to be found to deal with it? It happens to me. The $15 savings is just the base of this offer.
The Night Glow toilet seats collect day light during the day, and then emit a blue or green glow during the night. They were invented by a man who simply went to sit on the toilet at night and fell off - I am sure many of us have experienced this when we celebrate New Years ;) I personally think these toilet seats would be great for kids who are toilet training.
If you have a guest room, that would be another great purpose for the glow in the dark toilet seat. Guests are already unfamiliar with how to get to the bathroom. This toilet seat will guide them to the proper facilities I am sure. Here is one of the reviews:
I used this seat cover for my guest bathroom. Everyone seems to enjoy it. It glows pretty bright.

I did not imagine that the price would vary so greatly on this item. When I did my price comparison, I found this Night Glow toilet seat for $69.99 @ Amazon.ca and for $49.99 @ Lowes.ca. Here is a little video I found on YouTube. This video is an interview with the man who invented the product. As you can see, the product is high quality and is not the typical "cheap" feeling, glow in the dark material. Your glow in the dark toilet seat should glow for over 8 hours after charging in any light source.
You will even get free shipping on this offer from HomeDepot.ca.
(Expiry: 31st December 2015)