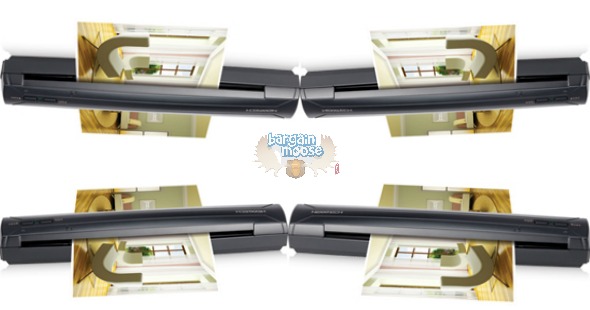 *Bump! This item is back at a fabulous price, and this time it includes shipping.*
I usually bring my laptop wherever I go, it would be so convenient to have a portable scanner as well. If you are in the same boat, you can save $60 off of the Nexxtech Portable Colour Scanner's original price and pay just $29.96.
While the expiry date for this deal from The Source Canada might say 14th October, I highly doubt that stock will last that long. If you are in need of a portable colour scanner, act now. This Nexxtech Portable Colour Scanner is available at this price online at TheSource.ca only. For just $30 it would make an excellent addition to your portable office, or even a great gift to wrap up and put under the tree this Christmas.
This portable colour scanner is particularly ideal to have as a travel companion. It has features like OneTouch Scan as well as PDF buttons. You will never have an issue scanning business cards, photos or important documents again. The maximum document scan size is 8.5" x 36" so this might even be great for scanning long receipts.
The Nexxtech Portable Colour Scanner comes with a wall mount, software CD, USB Cable and even a travel pouch. This scanner seems to have pretty great reviews as well. One of the reviews reads:
This is a GREAT little scanner, once I figured out how to turn on the color scan function. It is very fast. I find that keeping your finger beside the photo as it goes through keeps it going in straight, as some pictures turned as they went through. So nice and small, very portable, took it home on the holiday and scanned all of my family's old photos, now everyone wants me to come do their pictures. I LOVE THIS SCANNER!
The price is pretty excellent as well. I could not find this specific product at other retailers, but other portable scanners of this size sell for between $90 and $120. This specific Nexxtech Portable Colour Scanner would normally cost you $89.99. For example, the Hipstreet Handi-Scan Portable Scanner has the same qualities and sells for $89.95 @ BestBuy.ca.
The Source Canada even offers free shipping on orders over $25, so you don't even have to worry about paying anything additional for shipping and handling this time around. The last time this scanner was priced this low was around boxing day last year, so I would jump on it now if you need something like this. Who knows when it will be this awesome of a price again.
(Expiry: 14th October 2015)