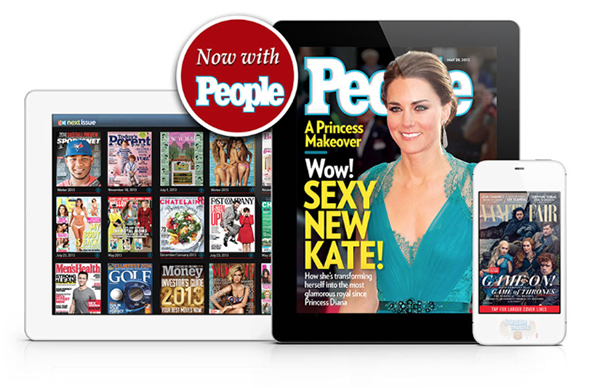 Next Issue is offering a free 60-day trial of its subscription service. The free trial is normally 30 days, so this is a great opportunity to really try out Next Issue and see if you like it.
Click here to shop @ Next Issue Canada now
Coupon Code: BONUS30
Discount: Get a free 60-day trial
Expiry: Unknown
A Next Issue subscription allows you to read more than 100 of the most popular magazines on your tablet or smartphone. You'll be able to read everything from People Magazine to Men's Health to Vanity Fair, and there's a huge selection of both men's and women's magazines. As a bona fide magazine lover, I am so excited for the opportunity to try out Next Issue. When you go to the Home Page, click on Start Your 30 Day Trial.
You'll then have the option of selecting whether you'd like their Basic or Premium package. The Basic Package costs $9.99 per month after your free trial is finished, and gives you access to over 100 monthly magazines. The Premium package costs $14.99 per month after the free trial, and you can access over 115 monthly and weekly magazines. I ordered the basic package for now, but am definitely thinking about upgrading later.
You'll be able to key in the coupon code when you provide your billing information to get the additional 30 days free. If you're a Rogers subscriber, you also have the option of having the subscription cost added to your Rogers bill. I've heard that this is a great product, and can't wait to try it out.
Find this Next Issuecoupon, and all other deals, posted in the Bargainmoose coupon forum.