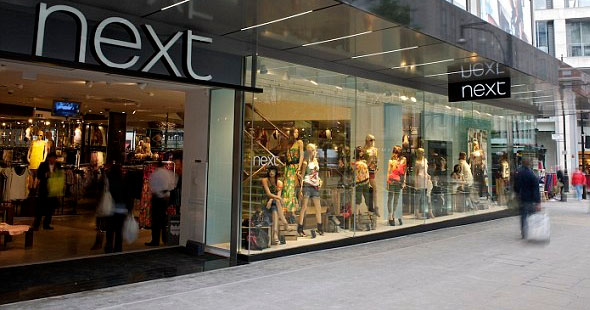 I had heard of Next before but, silly me, I had no idea the UK-based online retailer had so much love for their Canadian friends. Next offers free 3-day shipping on orders of $60 or more AND they pay all customs and import taxes to Canada. How cool is that?
Next is much like a traditional department store; they sell clothing, shoes and accessories for the entire family as well as some housewares and their prices are about on par with places like Hudson's Bay and Simons.
They offer gorgeous 3-packs of Baby Sleepers for as low as $34 and a cute pack of 5-Pack of Multi-Striped Sleepers for just $48.
Children's wear is also reasonable with sweatshirts and hoodies for Boys from $19 and pants and jeans for Girls from $19.
There are lots of simple but stylish pieces for Men including tees from $17 and jeans as low as $52.
There is a ton of great stuff for Women; from tops to bras to outerwear.  Tees start at a very reasonable $9 which you can pair with jeans for as low as $38. Don't miss their Accessories, either. It's chock full of great finds including hair accessories, hats, belts, gloves and more. You don't want to get me started on their Handbags or we'll be here until next weekend.
Oh, and Shoes. See above re: being here for a while.
Their Homeware section is mostly linens and decor pieces but Storage is filled with some irresistibly unique pieces.
Next also carries designer lines (such as Vero Moda, Superdry, Warehouse and French Connection), which is where you'll see the prices climb as they would anywhere else with high-end labels.
I've barely scratched the surface of everything Next has to offer so I do hope you'll have a look for yourself. Be prepared to set aside some time, though! Note that their styles are, of course, in UK sizing so be sure to consult the helpful Sizing Guides.
As I mentioned, there is a very reasonable free shipping threshold of $60 and orders under that mark are charged just $6 for delivery; any and all customs and duties are handled by Next. They accept returns on most items but you're responsible for the return shipping charges (to an Ontario address, not to the UK), so double-check the sizing to be sure you'll love what you order.
I'll leave you to it, Moosers. If you're still browsing tomorrow morning, don't say I didn't warn you. :)
(Expires: Unknown)