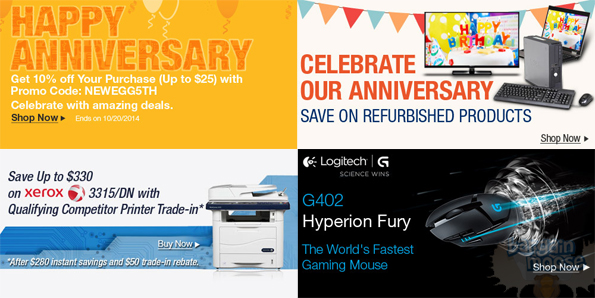 Though Avigayil mentioned this coupon code in her Newegg post yesterday when she was writing about the hot deal on the  (now expired) external battery, I think this 10% Newegg coupon code should be highlighted in a post of its own. It's VERY rare to see a coupon code which works on almost everything site-wide at Newegg, for an extra discount!
Click here to use the Newegg coupon code online now
CouponCode: NEWEGG5TH
Discount: 10% off
Expires: 20th October 2014
The above coupon code should work on almost everything on site, but you can only claim a maximum discount of $25 on your order. They've set that limit on the coupon code. It's to celebrate the Newegg anniversary sale – their 5th anniversary.
Newegg has a whole section here dedicated to some discount deals on the refurbished electronics. However, I tested the 10% coupon code out on a few of the items and it didn't seem to work. The coupon code may not apply to refurbs but I couldn't find any specific terms and conditions to confirm this detail.
If the coupon code doesn't apply to something, you will see this message in your cart:
ERROR There is an issue with promo code NEWEGG5TH. Please check promo code again or contact customer service.
It doesn't mean something is wrong with your order or with the promo code, it just means the items isn't eligible for a discount.
Back in September, Margarita mentioned the deal on Newegg Premier – this is their free shipping service. If you signup to Newegg Premier, you can get a free 30 day trial, in which everything will be shipped to your for free. If you choose to continue with the plan, it costs $59.99 per year and almost everything on site will be shipped to you for free. If you're a regular buyer from Newegg.ca, this is definitely worth considering. And even if you're not that regular of a buyer, you could take the 30 day trial when you're placing your order to save on those shipping fees. They can be quite high on some items, so free shipping is a super bonus.